R&B Singer Abraham McDonald Stars On The Oprah Winfrey Show, Signs Label Deal With Island/Def Jam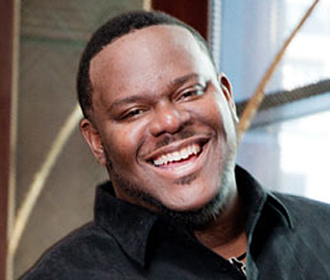 Born in Dallas, TX, singer/songwriter Abraham McDonald grew up in Los Angeles, California with dreams of musical stardom. He was raised hearing a melting pot of amazing singers and learned as he listened to everyone from the legendary R&B singer Luther Vandross to the beautiful arias sung by opera diva Kathleen Battle. His early influences included such renowned singers as James Ingram, Andrae & Sandra Crouch, Stephanie Mills, and the Temptations.
Today, his impressive vocal range has given McDonald a solid foundation from which to spread his harmony, melodies and future promise to his fans around the world. His sense of musical adventure, imagination and sexy-neo soul vocals are imbued with more in-the-moment emotion than any formal training one could receive. Combine this with a whole lot of personality and enthusiasm, and you have the recipe for one of the most promising new artists to come along in years.
"Since I was 13-years-old, my dream has been to perform at Wembley Stadium in London," states McDonald. "My dream is to pour myself into my craftsmanship, write and sing beautiful songs, and write timeless music because you never know how it affects. My dream is to write with my heart so that people will receive it and that I will be able to sing it in such a way that someone says, "He sounds just like how I feel."
Breaking through via KaraokeFest 2009, Bebe Winans and The Oprah Winfrey Show
It was destined to be the right move for Abraham McDonald when his sister suggested he enter KaraokeFest 2009, the Karaoke industry's largest singing competition. Little did he know that entering the contest (August 2009) was the first leg of a remarkable musical journey he was about to travel. Several weeks later (in September), Abraham was a finalist at Karaoke Scene Magazine's KaraokeFest Crème De La Crème singing competition held at the Los Angeles County Fair.
As luck would have it, Harpo Productions, the producers of The Oprah Winfrey Show, sent a camera crew to tape the finalists who would later be invited to appear on Oprah's Karaoke Challenge, a new karaoke-themed show the media mogul had in development. When Abraham won KaraokeFest 2009, the great gospel singer BeBe Winans, who had seen Abraham's performance, invited him to appear on Winans' stage. "He was so warm, gracious and encouraging. He told me that he had a feeling that he'd be seeing a lot more of me. At the time, it was all so surreal, I couldn't believe that BeBe Winans would be at a karaoke competition," states McDonald.
In the months after the competition, McDonald was still trying to make ends meet, even though he'd won the $5000 awarded to him as Best Male Vocalist in the KaraokeFest 2009 competition. Then one day in October (2009), as he was sitting on the side of his bed pondering how he was going to pay his bills, he received a phone call from Harpo Productions, inviting him to come to Chicago as one of 8-semi-finalists to compete in their on-air Oprah's Karaoke Challenge. After an outstanding performance of Luther Vandross' "Superstar" (judged by Ashford & Simpson, Billy Ray Cyrus, and Gladys Knight), and nationwide voting by Oprah show viewers, McDonald found himself as one of the three finalists. McDonald then sang Oleta Adams' R&B classic, "Get Here" before a panel of top music industry execs: L.A. Reid, Diane Warren and David Foster. His performance received the most votes, and Abraham went on to win Oprah's Karaoke Challenge and its Grand Prize of $250,000 and a recording contract.
Not bad for a few months of work and needless to say, McDonald hasn't looked back. "We haven't stopped running yet – from that moment, things just started happening."
The Island/Def Jam Record Deal
McDonald has clearly taken full advantage of his new opportunities. He didn't stop to think about what's next – he just did what's next. McDonald explains, "Mr. L.A. Reid (CEO of Island Def Jam Music Group) was kind enough to offer me the opportunity to record a song. I'm called a realist, and recording a song is an amazing thing. [At that point] there was no promise that the song would be released, but I was elated to just to do that."
A sold-out concert at The Mint in Los Angeles last November (2009) led to a chance meeting with Island Def Jam Senior Vice President of A&R, Max Gousse. "He handed me his business card and said, 'Welcome to Def Jam!'" According to McDonald, that meeting began another leg of his musical journey and also led to a budget for three songs.
"I am elated and grateful to be at Island Def Jam. Being the new kid in a school of all popular kids is no easy run but I've been welcomed with warm arms. I think what I bring to the Island Def Jam label is the familiarity and what God has gifted me with…which is the ability to affect. That is the most fulfilling thing about singing for me," says Abraham.
McDonald's first single for the label is appropriately titled, "Miracle." Written by the hit writing/producing team of Sam Watters & Louis Biancaniello (Kelly Clarkson, Jordin Sparks, Fantasia), the single was released in May (2010) and McDonald performed it on The Oprah Winfrey Show.
McDonald is surely blessed to now have songs written by top industry hitmakers. When asked how he approaches learning a song, he said, "When I hear a song, I usually know within the first 15-20 seconds if it's what I am supposed to sing. It's really cool because as a singer it's like being a carpenter, you have to be able to put things together. I consider vocal styling as being like a sculpture. There is craftsmanship that has to go into this song. When they deliver a song to me, I listen to the demo repeatedly but I begin to imagine my inflections, my nuance, and my personal story."
"When I sang "Miracle," I had to get back to that place and by the second take, I was in tears.," said McDonald. The emotion, the feeling, and characteristic energy and love McDonald brings to his music is apparent in his first single. In addition to working with Watters & Biancaniello, Abraham says that top songwriter Dianne Warren "was excited to have me sing one of her songs." The working title is "Ordinary Day," and McDonald says it's so rich and melodic that chills ran down his spine."
When asked for his career advice, Abraham offered some fresh advice for aspiring singers. "My advice is to push your dreams as if they are as light as a feather and also if you need to sit down, do, but don't quit."
Paula Edelstein is an award-winning music journalist and author. She contributes to All Music.com, Sounds of Timeless Jazz.com, and Suite101.com. She can be reached at paula.edelstein@att.net. She is also on Google+
Comments