Andrea Pais Named November "Best Vocalist Of The Month" With Her Song "Chasing Forever"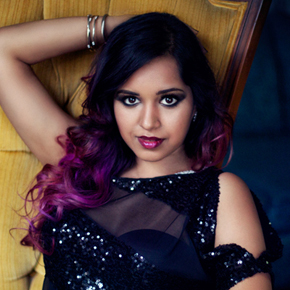 Andrea Pais, a talented pop singer & songwriter based in Washington, DC, has won the November SingerUniverse "Best Vocalist Of The Month" Competition, for her performance of her song "Chasing Forever". This song is the title cut on her 6-song EP Chasing Forever, which she released independently last month (Oct. 2013).
"Chasing Forever" is a soulful pop ballad which is very well crafted & produced, in the vein of Mariah Carey's classic style. This song provides a fine showcase for Pais' clear, expressive vocal performance. Her voice is impressive throughout, particularly when it soars into a higher range in the chorus and bridge sections. "Chasing Forever" was expertly produced by Jim Ebert at Cue Recording Studio in Washington, DC. Ebert is a producer/mixer who has worked with Madonna, Toni Braxton, Meredith Brooks and other artists.
Pais grew up in the small town of Belgaum in Southern India, where she was first exposed to music by listening to her father's extensive collection of blues, jazz and soul records. She began singing at a young age, and her parents encouraged her to develop her music & performing skills. Pais began taking piano lessons at age 8, and when she was 14 she started to write songs. She also entered and won some local talent competitions.
Education has also been an important part of Pais' life. In addition to music, she has trained to become a successful electrical engineer. Pais earned her bachelor's degree in India, and after she moved to the U.S. in 2006, she earned master's degrees in electrical engineering, with specialization in the field of biomedical microsystems.
Despite landing an excellent engineering job in Washington DC, Pais continued to pursue her music career, and she gained popularity as a music artist by posting videos on YouTube, which have attracted over two million views. "It was earlier this year (2013) that I decided to leave my engineering position to concentrate fully on music," explained Pais. "I wanted to record an EP of the songs I'd written. I then met (producer) Jim Ebert, and we worked together to record my EP."
Now with the recent release of her EP, Pais has been busy promoting her music via the internet & social media, and by performing live shows in Washington DC and other East Coast cities. She has also filmed a good, live performance video of her song "Chasing Forever."
"(Currently) I'm an independent artist—I'm doing all the promotion now," she said,. "I'd love to sign with a record company, and I'm looking for a good manager, booking agent and a publicist. I'm also writing more songs and plan to complete an album."
Top Five Vocalists Of The Month
"BEST VOCALIST OF THE MONTH" WINNER
Song Title:
"Chasing Forever."
Performed by:
Performed by Andrea Pais of Washington, DC. Written by Andrea Pais.
MORE BEST VOCALISTS OF THE MONTH
Comments