Young Singer/Rapper Becky G. Works With Hitmaker Dr. Luke, Releases Debut EP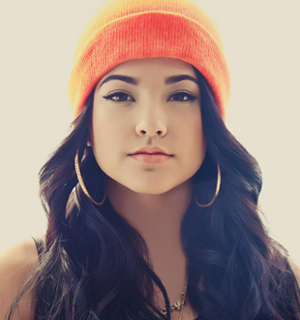 Fully showcasing the powerful duality of her talents as a singer and rapper, Becky G's single "Play It Again" is quickly living up to its name, with over 3.3 million views and counting for its streetwise Jess Holzworth-directed video. The popular tune is the title track of the 16-year-old Inglewood, CA born performer's debut EP on Kemosabe/RCA Records, the Sony Music Entertainment label founded by multi-platinum hitmaker Dr. Luke.
Executive produced by Dr. Luke, the collection—whose tracks include "Can't Get Enough" (featuring Pitbull), "Built For This," "Zoomin' Zoomin'" and "Lovin' What You Do"—features production and songwriting by Max Martin, The Jam (Mike Mani & Jordan Omley), The Cataracs, will.i.am and Becky G. herself. Although the EP is her first official solo project, Becky—born Rebecca Marie Gomez—has established herself on the pop/hip-hop scene these past few years as a featured artist on several prominent singles, including "Oath" by Cher Lloyd, "Wish U Were Here" by Cody Simpson (with whom Becky has done several tour dates), and a remix of "Die Young" by Ke$ha.
Not included on the EP but also playing a major role in her emergence as a pop/hip-hop star is "Becky From The Block," Becky's clever autobiographical twist on Jennifer Lopez's iconic "Jenny From The Block." Since premiering in late April, the video, shot in Inglewood, has earned over 4.5 million YouTube views. The clip features Becky's friends, family and a show of support from J Lo herself. The track was co-written by Becky, Dr. Luke, Jordan Omley (of The Jam) and Cirkut and produced by Dr. Luke and Cirkut for Prescription Songs.
"I think Becky from the Block really showed people who I am as a person, how I grew up and a little about my life story," the singer says. "I love both videos because my personality shines through them. When people meet me, they see that I am very outspoken and fun, super ghetto but also really goofy. These songs are my life story at this moment and allow me to both sing and rap. I love both equally and I'm glad I don't have to choose one or the other. I feel lucky and honored that Luke is letting me take hold of the wheel and let me be part of shaping the vision for how my career develops."
Luke signed Becky after viewing an early YouTube clip of her swaggering her way through an original rap she wrote set to "Otis," the Otis Redding tribute by Jay-Z and Kanye West featuring clips of the legendary singer's "Try A Little Tenderness." The song and clip open with Becky declaring "If everybody's getting one shot, I ain't missing." Becky created "Otis" with the help of Mani and Omley, whom she met through a mutual friend when she was 13. She began writing songs with them and they helped her develop her craft and performance style over the next year; they then began recording a series of cover songs, one of which was "Otis."
"I loved the old school feel of the track," she says, "and it was perfectly in line with all the music I've grown up with in my house, from The Temptations, Etta James and James Brown…old school feel good music as I call it…and my love of contemporary hip hop. Basically, like with the other songs, I was writing what I was going through in 30 bars! Long before it was getting tons of hits on YouTube, some executives at RCA saw it and showed it to Luke, who I later found out saw a lot of potential in me as an artist.
"When they called my management and said they wanted to meet me, I had no idea Luke would be at the meeting. To be honest, I was kind of star struck. We talked about music for about 20 minutes and then I played on my guitar some songs that I had written. Luke thought I was just a rapper so he really liked what he heard. Then to take the pressure off, we just started talking about food and hot sauce for an hour. I love hot sauce, and I thought, 'This guy gets me.' We just connected and it was like, 'Okay this is it!'"
Dr. Luke, whose numerous writing and production credits include Katy Perry, Kelly Clarkson, Britney Spears and Ke$ha, offers a unique perspective on his first meeting with Becky and their flourishing working relationship: "I would have signed her off that video alone. I was 100 percent in. She has so much personality and her voice just pops out of the speakers. Then I met her and discovered she could also sing and play the guitar. And I thought, 'This is even better.' Then I found out she could write and it was like, 'What else are you going to tell me, that you're also Van Gogh? Her potential is limitless."
At an age when many developing artists give up the creative reins to veteran hit makers who sometimes put too much of their own stamp on the music, Becky is determined to make her mark as a songwriter as much as a singer and rapper. "I see my craft as taking life and writing about it," she says. "Life is my inspiration, and I am usually writing songs and rapping about something I am going through or…well, I am also great at eavesdropping, so if I hear a great idea from other people's conversations, that's fair game. Seriously, though, I feel like I'm everyone's diary and I've always been that person that everyone relies on to discuss what they're going through. There are songs in these moments as well.
"Sometimes I will write not about what I'm going through but the heartbreak my friend or cousin is experiencing," she adds. "And the song can lift them up. The most important thing for me here at 16 is to really live life. How can I write about life if I'm not living it? I'm lucky to be surrounded by talented supportive mentors like Luke who are all young at heart and make the studio experience so much fun."
Jonathan Widran is a free-lance music/entertainment journalist who contributes regularly to Music Connection, Jazziz and All Music Guide. He can be reached at Few522@aol.com. He is also on Google+

Comments