BJ Smith Named April "Best Vocalist Of The Month" With His Song "If There Is Love"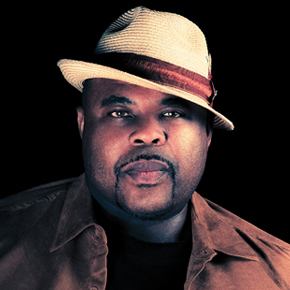 BJ Smith, a talented R&B/soul artist from Orange County, CA, has won the April SingerUniverse "Best Vocalist Of The Month" Competition, for his performance of his song "If There Is Love" (co-written by Les Pierce, Frankie Blue & Rene Elizondo Jr.). This song is included on his debut album Real Life Issues, which he released independently last November (2014).
"If There Is Love" is a graceful, soulful ballad, which provides a fine showcase for Smith's rich, expressive lead and backing vocals. Smith has recorded both an acoustic and a full-band version of this song, and both versions are included on his album. It is the acoustic version which has been selected to win our vocal competition, because the acoustic arrangement allows Smith's vocal performance to truly shine through. This recording was skillfully produced by Les Pierce, who has worked with Earth Wind & Fire, Patti Labelle, Steve Perry and Janet Jackson.
Smith grew up in the city of Placentia (in Orange County, CA) and he was inspired early on by listening to such favorite artists as Michael Jackson, Marvin Gaye and Bill Withers. He started to play drums at a young age, then alto sax, and he sang in church choirs. Later on, Smith also learned to play piano and percussion.
During high school, Smith was in the band, choir and performed in school plays, and he was also a state champion wrestler. He received an athletic scholarship from Cal State Fullerton, where he subsequently graduated with a major in criminal justice and a minor in music.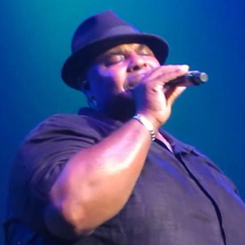 After college, Smith worked for four years as a police officer, but then decided to pursue his music career fulltime. "At first I worked with other artists—I played keyboards and percussion for the group En Vogue, and I toured with Rick James and Toni Braxton," recalled Smith.
Eventually, Smith decided to focus on his own artist career. In 2014 he recorded his Real Life Issues album, and he formed a band to perform live shows. "I love my band—we have some incredible musicians," said Smith. The band members include Roman Johnson and Alex Alessandroni Jr. (keyboards), Kyle Bolden (guitar), Patrice Jones (bass) and Raymond Calhoun (drums). Notably, Smith has been the opening act for R&B stars such as En Vogue and Al B. Sure. He also keeps his singing voice in top shape by studying with renowned voice builder/vocal coach, Gary Catona.
In addition to performing live, Smith has been writing many songs for his next album, and he has collaborated on a song with Australian hip-hop artist Eso (from the group Bliss n Eso). Later this year, Smith will be traveling to Australia to play shows with Eso.
Top Five Vocalists Of The Month
"BEST VOCALIST OF THE MONTH" WINNER
Song Title:
"If There Is Love."
Performed by:
Performed by BJ Smith of Orange County, CA. Written by BJ Smith, Les Pierce, Frankie blue & Rene Elizondo Jr.
MORE BEST VOCALISTS OF THE MONTH
Comments