Pop/Urban Star Brandy Talks About Her Album, Two Eleven, On RCA/Chameleon Records, Two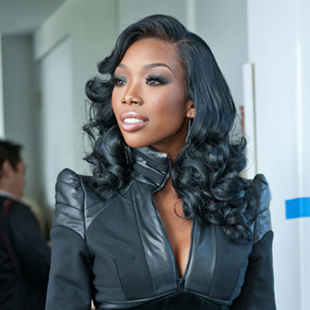 Eighteen years after Brandy Norwood's multi-platinum self-titled debut album launched the teen R&B/pop artist to stardom, the Grammy-winning singer is still in the mix, returning big after a four-year recording hiatus with a new label (RCA/Chameleon) and a the highly-anticipated album, Two Eleven. The title of the album is a dual reference to Brandy's birthday and the date earlier this year that her idol and chief influence, Whitney Houston, passed away. On August 14, she made a guest co-host appearance on BET's 106th and Park to premiere her video for the lead single "Put It Down," which features interactions with guest vocalist Chris Brown in addition to scenes of Brandy dancing in front of industrial backdrops and colorful Jackson Pollack-type screens.
Released to radio in June, "Put It Down"—which was written and produced by Sean Garrett, Shondrae "Bangladesh" Crawford and Dwayne "Dem Jointz" Abernathy along with Chris Brown–reached #16 on the Hot R&B/Hip-Hop Songs chart. The track is Brandy's follow-up to one of the most talked about reunions of the year, her duet with Monica, "It All Belongs To Me," a Rico Love-written & produced track released in February that reached #23 on the chart. The song marks the first time Brandy and Monica have worked together since they collaborated on their 1998 trademark hit "The Boy Is Mine," which won a Grammy for Best R&B Performance by a Duo or Group and received nominations for Record of the Year and Best R&B Song.
Brandy brings a dynamic, ever-evolving legacy as a singer, actress and pop culture icon to her new recordings and relationship with RCA/Chameleon. Ranked by the RIAA as one of the best-selling female artists, Brandy has sold more than 20.5 million albums worldwide, while receiving over 100 awards as a recording artist – including an American Music Award, two Soul Train Music Awards, two NAACP Image Awards, three Billboard Awards, four MTV Awards, six Soul Train Lady of Soul Awards and three BMI Awards. Eleven years after the end of a five-year run as the title character on Moesha which made her a TV star, Brandy is currently a cast member of BET's top rated show The Game and is set to appear in Tyler Perry's upcoming film The Marriage Counselor.
In an effort to reclaim the artistry that defined her earlier recordings, Brandy took something of a self-confrontational approach to working on Two Eleven. "I started out thinking about reincarnation and reinvention and how each birthday gives you another opportunity to make positive changes. With Whitney passing on that day this year, the idea had a whole other meaning, and I realized it's time for me to live out my purpose. I really want to make her proud and be the best person and artist I can be. As far as topics, I'm definitely expressing what I'm going through right now. I'm a hopeless romantic and so there's a lot of love. But it also touches on other things I'm going through. 'White Flag' is a good example of a song about my struggle. It's about everything that I've been through and basically surrendering."
Helmed by producer Breyon Prescott (CEO of Chameleon Records), Two Eleven features collaborations with Timbaland (Justin Timberlake, Missy Elliot, Jay-Z), Bangladesh (Ke$ha, Usher, Nicki Minaj), Mario Winans (Mariah, Puffy, Keyshia Cole ), Danja (Britney Spears, Keri Hilson, Jamie Foxx), Harmony (Rihanna, Keri Hilson, Fantasia), Hit Boy (Eminem, Lil Wayne, Kanye West), Noah 40 Shebib (Drake, Alicia Keys, Lil Wayne), along with hit songwriters Sean Garrett (Usher, Beyonce, Britney Spears), Rico Love (Usher, Beyonce, Chris Brown), Ester Dean (Katy Perry, Rihanna, Christina Aguilera), Frank Ocean (Justin Bieber, John Legend), and Chris Brown.
"There's a different edge on the album," Brandy says, "and the sound is gritty and edgy. I'm not afraid to express who I really am, and I know my fans deserve the best from me. It's taken me a minute to figure out the type of artist that I am, the type of music that I need to sing to reconnect with them. I just know I wanted Two Eleven to be as honest and real as possible – meaning it's about clarity, heavy challenges and pain, as well as love. It's not just all about hits, it's about staying true to who I am."
Jonathan Widran is a free-lance music/entertainment journalist who contributes regularly to Music Connection, Jazziz and All Music Guide. He can be reached at Few522@aol.com. He is also on Google+

Comments