Hit Artist Cassie Talks About Her Single "King Of Hearts" And Her Upcoming Album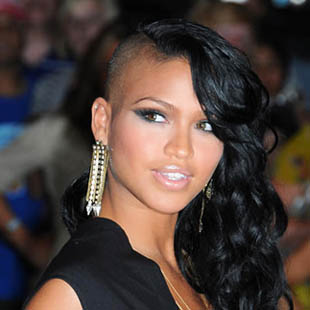 After years of delays, false starts and rumors that she was being dropped from Diddy's Bad Boy Label, R&B/pop singer Cassie is at last on track to release the long awaited follow-up to her self-titled 2006 hit debut, which spawned the hit "Me & U"—a track that reached #3 on the Billboard Hot 100 and sold more than a million digital downloads. The as yet untitled album, set for release in September, will feature "King of Hearts," the Europo/Eurodance influenced dance/pop lead single that was released on Valentine's Day. The song's sultry video racked up over two million views on YouTube.
Gearing up to make the perfect sophomore collection, Cassie has been very prolific, claiming to have written or co-written over 100 songs with various producers. Several high profile collaboration singles that had been slated to be included on earlier attempts at a full recording were released along the way. "Official Girl" featuring Lil Wayne was released to radio in September 2008. "Must Be Love," featuring Diddy was released digitally in April 2009 and peaked on Billboard's Hot R&B/Hip-Hop Songs chart at #42. "Let's Get Crazy" featuring Akon was released as a single in September 2009.
While Cassie is working with prominent producers like Rico Love, Jean Baptiste and J2 (who helmed "King of Hearts"), she claims there are fewer big name features even as she dips into a wider array of influences than her previous music reflects. "I think overall it shows a tougher, in your face side of me as an artist," she says. "There are so many elements, ska, hip-hop, pop, dance…something for everyone. We're still working on some of the collaborations, and one I can reveal is Jeezy, who appears on a ballad. I chose to work with him because I'm always trying to think of someone who wouldn't be the typical featured artist. On the other hand, I also didn't want to overwhelm anyone with too many features. I'm a big fan of a lot of artists so that kind of restraint is hard sometimes. The key is offering a little sprinkle of many different flavors."
Although in general the tone of the album as a whole will feature what she calls "a tougher, louder, not shy Cassie," the 25-year-old singer is excited about the reception thus far for "King of Hearts," a tune which shows her "softer, sultry" side. She adds, "As soon as I heard the track, I thought this is the sound of right now. It's sexy, club-oriented, young and I and feel it's the kind of song that perfectly reflects this generation of listeners. The video is so cool, it's felt like we were making a movie. We wanted to shoot it like it was an editorial for a fashion magazine, but one that's moving all the time. It's refreshing and exciting to finally have a song out there that people are really getting into!"
Born of Filipino, African-American and Mexican ancestry in New London, Connecticut, Cassandra Ventura trained early on as a singer and dancer and quickly segued into modeling, appearing in ads for Seventeen Magazine and the catalog for the teen line Delia's by the time she was 16. Moving to New York City to pursue both modeling and singing, he signed on with Wilhelmina Models and One Model Management and launched a professional relationship with Ryan Leslie, founder of the media company NextSelection Lifestyle Group and a renowned producer of R&B, hip-hop, pop and gospel artists. Cassie and Leslie's first collaboration "Kiss Me" earned her a management deal with Tommy Mottola. The singer signed with Leslie's company and recorded Leslie's "Me & U" in 2005. The song became a club hit in Germany and when Diddy heard it, he partnered with Leslie to release Cassie's debut album under NextSelection/Bad Boy.
In the months leading up to the release of Cassie's new album, the singer promises a lot of summer traveling, performing shows and making promotional appearances. "2012 is pretty much all about music and traveling for me," she says. "I've been to a lot of cities in the past, but this time I'm going to make it a point to really see the places I'm going. Usually it's always about just going to hotels, doing shows, hitting radio stations, then getting on the plane or train to the next city. I don't want life to pass me by, so I'm taking days off between stops so I can take in the sights. I really want to make this fun."
Jonathan Widran is a free-lance music/entertainment journalist who contributes regularly to Music Connection, Jazziz and All Music Guide. He can be reached at Few522@aol.com. He is also on Google+

Comments