Disney's The Cheetah Girls Talk About Their Album, TCG , Plus Their Acting and Concert Tours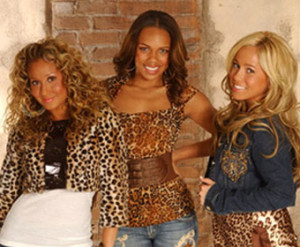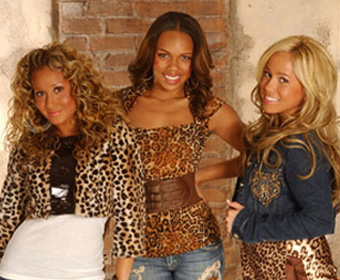 Since the first airing of their self-titled Disney Channel original movie musical in 2003, the Cheetah Girls have been a multi-media success story and a cornerstone of the Disney film, television and recording universe that has attracted teen and young adult audiences worldwide. The group has sold millions of copies of the soundtracks to the first two Cheetah Girls films and several hundred thousand more of Cheetah-Licious Christmas and the recent live CD In Concert: The Party's Just Begun Tour. All of this has been the prelude, however, to the trio's new recording TCG, which their new label Hollywood Records is billing as their official debut studio album.
With the exception of their 2005 holiday venture – which was created to capitalize on the success of the first two films and their best selling soundtracks – TCG marks the first time that Adrienne Bailon (age 23), Sabrina Bryan (23) and Kiely Williams (21) have recorded under their own names rather than their Cheetah Girls characters "Chuchie" (Adrienne), "Dorinda" (Sabrina) and "Aqua" (Kiely). By exploring their personal musical identities apart from their screen personas, the girls look forward to terrific new possibilities of crossover success.
To help them convey a more personal creative vibe and an eclectic range of musical styles – from salsa and hip-hop to electronica, dance-pop and heartfelt ballads – the group vibed in the studio with some of today's hottest producers. Jonathan "J.R." Rotem (who has worked with 50 Cent, Rihanna and Ashley Tisdale) utilized a sample of Lionel Richie's "All Night Long" for "Fuego," the Latin party anthem the Cheetahs co-wrote that kicks off the album. They also worked with *NSYNC's JC Chasez, Nephew, Antonina Armato (who produced the first Cheetah Girls soundtrack) and two Australian production teams, the Wizardz of Oz and Dreamlab.
"This is definitely our most personal CD," says Sabrina, who is originally from Yorba Linda, CA. "The fans knew us as our characters, but this time around they're going to know us on a personal level and connect with us on a first-name basis."
Kiely Williams, originally from Alexandria, VA, echoes her fellow Cheetah, adding, "It's taken us a long time to get to the point where we can truly be ourselves apart from our characters, and TCG completely represents each of our individual tastes and favorite styles of music. This was a great opportunity to finally explore who we are as artists apart from the characters, and even though the four-month recording time is fast by today's industry standards, it seemed like forever because we couldn't wait to finish and have the chance to get it out there to the fans. When we listen back now, we're really proud of what we've done."
Kiely adds that each Cheetah Girl brings a unique musical sensibility to the mix now that they've been given more artistic control over their tracks. "I'm probably the most eclectic of us, listening to everything from Pachelbel to Biggie! My left of center personality and outside-the-box outlook on everything makes things different. Adrienne is our Latin girl – she's about the Latin music and there's a lot of that flavor here. She also pushed us to record some of our songs in Spanish, which was fun. And Sabrina is our Orange County girl, totally into Gwen Stefani and No Doubt, and the rockers and electric guitar parts are here because of her. We all have backgrounds as dancers, so we're always thinking about how the songs will translate visually when we're onstage. We bring our three outlooks to the party and it's amazing."
Starting with the recent release of TCG's first single "So Bring It On," all the Cheetah Girls need to do to translate this eclectic magic into a huge presence on the pop charts is get their millions of Radio Disney listeners to light up the Top 40 request lines. Based on their success with this audience, it seems clear that their fans will follow the Cheetah Girls wherever they go.
Their "The Party's Just Begun" tour from September 2006 to March 2007, which featured a rotating series of Disney opening acts like Miley Cyrus (as Hannah Montana), Vanessa Hudgens, Everlife, Jordan Pruitt and T-Squad, was a complete sellout. It grossed $26 million over 86 concerts, while boasting the record for the largest sales in the history of Houston's Reliant Stadium with an impressive 73,200 tickets sold. The previous record holder was none other than Elvis Presley.
This audience is just a fraction of the 13 million viewers who watched the initial run of their first film The Cheetah Girls, and the even larger audience which watched their adventures in Spain in the 2006 sequel, The Cheetah Girls 2. The DVD of the first film sold over a million copies, making it the second best selling DVD for a Disney Channel movie after High School Musical. These onscreen numbers translated to impressive CD soundtrack sales; the first went double platinum, and the second hit #5 on the album charts while selling 1.3 million.
The Cheetah Girls whirlwind continues this fall. As part of the TCG promotional campaign, Adrienne, Sabrina, and Kiely are appearing appear on 70 million Kraft Macaroni & Cheese boxes, and there will be Cheetah Girls dolls, a Nintendo video game, and an exclusive line of stationery at Limited Too.
The girls are also each exploring their own talents. Kiely is writing a self-help book for teen girls and co-starring in the 2008 Adam Sandler-produced comedy I Know What Boys Like alongside Anna Faris, Katharine McPhee and Rumer Willis. Adrienne is preparing to record her first solo album, a mix of Spanish and English songs, while Sabrina is co-writing "Princess of Gossip" for Pocket/MTV Books and starring on Dancing With The Stars this fall. In January, the girls will be heading to India in January 2008 to film their third Cheetah Girls movie.
"It's a pretty intense schedule," Kiely says, "and our personal friendships with each other help a lot when it's rough and we're tired and cranky after these long days of so much activity. We all know what the other is going through, and we have a shoulder to lean on wherever we go. We're also each very close with our friends and family, which helps keep us grounded. But really, it's all so much fun. We love having the opportunity to travel and see many interesting places, and we feel blessed to have these once-in-a-lifetime opportunities."
"Our main goal," Kiely adds, "is to make positive, uplifting music that everyone can enjoy. It's not just for young people. But we want to show people that music doesn't have to be risqué or provocative to be enjoyable. We've done that with this album, and I'm really excited to see what our fans and their friends and sisters, aunts, uncles, and grandmothers think about it. Our favorite moments happen when we look out from the stage and see a little girl out there dancing on a chair. The mother looks at her daughter and is so happy to be able to be there to share the experience with her. Beyond the material success the Cheetah Girls are having, those are the kinds of things that really warm our hearts."
Jonathan Widran is a free-lance music/entertainment journalist who contributes regularly to Music Connection, Jazziz and All Music Guide. He can be reached at Few522@aol.com. He is also on Google+

Comments