R&B Star Ciara Discusses The Making Of Her Platinum Album, The Evolution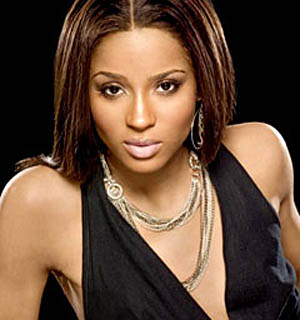 True to the title of her #1 breakthrough single "Goodies" and Top 5 debut album of the same name, Ciara's been serving up the goods big-time, scoring hit after hit since emerging on the scene in 2004. Dubbed "the First Lady of Crunk & B" by one of her producers, Lil' Jon, this Grammy Award-winning singer/songwriter followed "Goodies" with numerous hits that have defined R&B and hip-hop in the mid-2000s. Her latest single "Can't Leave 'Em Alone" (featuring 50 Cent) is the fourth to be released from her platinum second album Ciara: The Evolution, on LaFace/Zomba Records
Ciara followed her debut success of "Goodies" with two more hits from her debut album: "1, 2 Step" (featuring Missy Elliot) and "Oh" (with Ludacris). Then in 2006, Ciara's dance single "Get Up" (which was featured on the Step Up movie soundtrack) hit the Top 10 on the pop chart. That song is also featured on Ciara: The Evolution, which debuted last December at #1 on the Billboard album chart. Since its release, the album has spawned two more top hits: the #1 R&B/hip-hop smash "Promise" and "Like A Boy."
Living up to the bold and ambitious name, Ciara: The Evolution capped an impressive two-year span for the 21-year-old singer, who was born in Austin, Texas but grew up an Army brat on several military bases before her family settled in Atlanta when she was a teenager. Beyond her global chart successes, Ciara earned four Grammy nominations (including Best New Artist), a five ASCAP Awards for songwriting, two BET Awards, and two MTV Video Awards. In addition, she won a Grammy Award for Best Short Form Music Video for her collaboration with Missy Elliot on the Elliot's hit "Lose Control."
In addition to her appearance on "Lose Control," Ciara has performed on major hits by many other artists, including Bow Wow's "Like You" and Field Mob's "So What." Ciara's high-impact videos have always showcased the singer's formidable skills as a dancer, and the performer was able to demonstrate her skills on the concert stage, when the success of Goodies overseas led to her headlining shows in the U.K., Germany, Japan and in Africa. She takes her passion for dance so seriously that she even included an instructional dancing DVD with The Evolution, which shows some of the different routines from the "Get Up" and "Promise" videos.
"There have been a lot of emotional highpoints as I've been living my dream," Ciara says. "Everything has been so great, and it's all made me even more motivated. I realize I've really been blessed with just being able to make great music. That's where it starts for me because at the end of the day, I feel that my records kind of carry all audiences from adults to kids, just everybody. I hear kids singing, '1, 2 Step' or 'Goodies.' I hear adults singing it and dancing around, so I could say that's really the blessing for me in this case."
Ciara chose to call her second album The Evolution because she felt she had truly evolved as both an artist and a woman. "In this case," she continues, "a lot of things that you see me do are honestly, just natural changes for me like I was growing. I guess you can say 'Promise' was definitely something different for me and the energy was…it was growing. When I was thinking about picking the first thing from my album, I felt 'Promise' was perfect because of the track alone to me is, it just makes a statement. And then the record was something different from what people were used to hearing me do. So this record does have a more mature sounding, sexier vibe."
One of the exciting elements of hip-hop is the collaborative nature of the genre, as artists work with a multitude of big-name producers while frequently inviting other hit artists to appear on their tracks. As Ciara herself develops her songwriting and producing skills – she co-penned numerous tracks on The Evolution, and was the album's executive producer – she has surrounded herself with the best hit and beat makers in the business. Goodies featured key contributions by Lil' Jon, Jazze Pha, R. Kelly and Dre & Vidal. In addition to featuring performances by 50 Cent and Chamillionaire (on "Get Up"), The Evolution found Ciara vibing collaborating with Lil' Jon and Jazze Pha, Pharrell Williams, will.i.am, Dallas Austin, Rodney Jerkins and Bryan-Michael Cox.
"What was really cool was that a lot of the producers I wanted to work with felt the same way about working with me," Ciara says. "Pharrell said he had a song for me but when we got in the studio, we ended up writing a song from scratch which was 'I Proceed,' a track with a lot of energy. A lot of the tracks on this album are energetic like 'Make It Last Forever,' a real cool dance/party cut that Rodney produced. He also did 'Can't Leave 'Em Alone.' A lot of the music on this album was inspired by old-school records. There was a way music used to feel and I wanted to capture that. I felt the inspiration from artists like Michael Jackson, Prince, TLC, Jodeci, Madonna – there was a certain groove I wanted to have and I think we got it."
Ciara also made some telling specific comments about the talented pros she had the opportunity to work with: "Working with will.i.am is a lot of fun. He's such a sweet person. He has so much energy and his story, his life story to me is so intriguing. It's just really cool to see him come up and just have a lot of fun. We talked about so many different things in life that we cracked up. We danced around. It was a lot of fun and he's definitely an energetic musician."
In addition, "I've always wanted to work with Rodney Jerkins since I was younger and was first starting out. Just knowing his history – that he worked with Whitney Houston when he was just 18 years old and produced one of her big hits – was incredible. His energy just grabbed me. I wanted to work with him on my first album, but this time everything fell right into place."
She continues, "Pharrell, I've always wanted to work with him as well. I think he is an amazing producer. He has a different sound and I felt like if we got together, the energy would be crazy and it came out really cool. And Dallas Austin, I grew up being a big fan of his music – his work to me was so amazing. I really wanted to work with these producers, because their music speaks for itself. I wanted to make the best album that I could, so I wanted to work with the best."
In addition to her career as a performer, songwriter, producer and recording artist, Ciara's next step is conquering the world of film. She is set to co-star with Patti Labelle and play, appropriately enough, a budding pop star in Mama, I Want To Sing! The movie has just begun filming and will be released in early 2008.
"I had my first film experience for an MTV film called All You've Got," she says. "I'm definitely ready to grow with that. I also want to take my time and perfect it. [Overall] I've learned so much and I feel like I've continued to get better. I've been blessed to have friends and family who have been so supportive. I appreciate all that has happened and now I feel like I'm going to a whole new place with my evolution in fashion, dance and in my music, too."
Jonathan Widran is a free-lance music/entertainment journalist who contributes regularly to Music Connection, Jazziz and All Music Guide. He can be reached at Few522@aol.com. He is also on Google+

Comments