Paul Koudouris Named April "Best Vocalist Of The Month" With "Til The Real Thing Comes Along"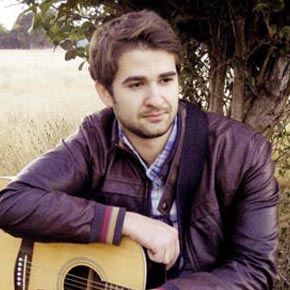 Paul Koudouris, a talented, pop singer/songwriter (based in Austin, TX) who plays several instruments, has won the April SingerUniverse "Best Vocalist Of The Month" Competition, for his performance of his song "Til The Real Thing Comes Along" (co-written by Tomas Costanza, Ashley Levy & David Baker). This song is included on Koudouris' debut album, Twenty-Something, which he released independently last month (March 2013).
"Til The Real Thing Comes Along" is a dramatic, emotional pop ballad, which provides a fine showcase for Koudouris' strong, passionate vocal performance. This recording starts intimately with just piano and vocals, and then lush string tracks are added to create a full sound. This song was expertly produced by Tomas Costanza of Killingsworth Recording Company in Los Angeles. Costanza has worked with Boys Like Girls, Blues Traveler and Clinton Sparks, among others.
Koudouris , who is 23, was born and raised in San Antonio, TX, where he impressively learned to play many instruments including guitar, keyboards, drums & percussion, trumpet, banjo, mandolin and harmonica. He was inspired by listening to such favorite artists as Jason Mraz, Mumford & Sons, and Jack Johnson. During high school, Koudouris began performing in several musical theater productions, utilizing his singing, acting and musician skills.
For college, Koudouris received a scholarship to attend Point Park Conservatory in Pittsburgh, PA, where he subsequently graduated with a B.A. Degree, majoring in Music Theater Performance. He also performed in regional and national shows during this period, building credentials as a Broadway-level performer.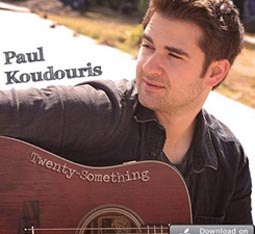 Currently, Koudouris is simultaneously pursuing music theater gigs on Broadway and nationwide, while also developing his career as a singer/songwriter and recording artist. In late 2012 he wrote & recorded his debut album, Twenty-Something, working with producer Tomas Costanza and other members of the Killingsworth recording team. "It's been great working with Tomas and his creative team; we wrote many songs together for my album," said Koudouris. "We were able to work via Skype, on both the songwriting and the production."
Koudouris has been busy promoting his album by playing live shows with his band and doing some solo shows. "This year we played at the Sundance festival in January, and at South by Southwest in March," he said. Koudouris has also played gigs in New York, Pittsburgh, plus many shows in Austin.
"I'm also looking forward to filming several music videos of songs from my album, starting with key cuts 'Born To Be Young' and 'Get Busy Living'. I'm excited to be working with top video director Andrew Bennett, who has worked with Katy Perry, the Deftones and Nickelback. Eventually, I hope to do videos of all the songs from the album."
"BEST VOCALIST OF THE MONTH" WINNER
Song Title:
"Til The Real Thing Comes Along."
Performed by:
Performed by Paul Koudouris of Austin, Texas. Written by Paul Koudouris, Tomas Costanza, Ashley Levy & David Baker.
MORE BEST VOCALISTS OF THE MONTH
Comments