Emily Mure Named February "Best Vocalist Of The Month" With Her Song "Don't Lock The Front Door"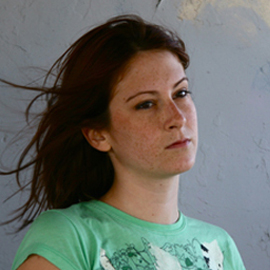 Emily Mure, a promising folk/pop singer & songwriter based in New York City, has won the February SingerUniverse "Best Vocalist Of The Month" Competition, for her performance of her song "Don't Lock The Front Door." This song is included on her 12-song debut album Where I Began, which she released independently in December 2009.
"Don't Lock The Front Door" is an appealing folk/pop tune which has a very sparse instumentation–just vocals and acoustic guitar. But it provides a fine showcase for Mure's expressive, graceful vocal performance, which is reminiscent of Norah Jones' style. Notably, Mure played guitar and also produced this song, which was recorded by Mike Presta at The Engine Room studio in Manhattan.
Mure grew up on Roosevelt Island (which is part of Manhattan), and her grandfather and father were both professional musicians who introduced her to music. She was also inspired by listening to such favorite artists as Leonard Cohen, Bob Dylan and Ani DeFranco. Interestingly, the first instrument Mure learned was oboe, and she studied oboe while attending the LaGuardia High School for the Performing Arts. Impressively, during her high school period she performed with a woodwind quintet at Avery Fisher Hall, and with an orchestra at Carnegie Hall.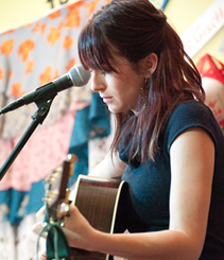 For college, Mure attended Ithaca College (in central NY state), where she majored in Music and minored in Psychology. However, it was during college that she decided to focus on folk and Celtic music instead of classical. In the summer following her sophomore year, Mure studied Irish Celtic music at the University of Limerick in Ireland. In fact, she loved Ireland so much that after graduating from college, she moved to Galway, Ireland for six months, where she earned her living as a street musician. Also during this time in Ireland, she wrote several of the songs which would appear on her debut album, Where I Began.
Upon her return to New York in 2007, Mure performed live steadily (at such venues as Rockwood Music Hall, The Living Room, Union Hall and Arlene's Grocery), and she prepared to record her album, for which she wrote all the songs. "I started to record the album in May 2009, and it was recorded over the next few months," Mure recalled. "It was released that December (2009)."
Following the album's release, Mure has promoted the album online, and by playing many shows around New York, sometimes as a solo performer, in a trio (with oboe & cello), or with a full band. "I'm continuing to promote my album, playing local gigs and several festivals," she said. "I would also like to do a Northeast tour, and a Southern tour." In addition, Mure has been writing songs for her next album, which she will start recording later this year.
Top Five Vocalists Of The Month
"BEST VOCALIST OF THE MONTH" WINNER
Song Title:
"Don't Lock The Front Door."
Performed by:
Performed by Emily Mure of New York, NY. Written by Emily Mure.
MORE BEST VOCALISTS OF THE MONTH
Comments