Shane Martin Named November "Best Vocalist Of The Month" With His Song "As Long As It Takes"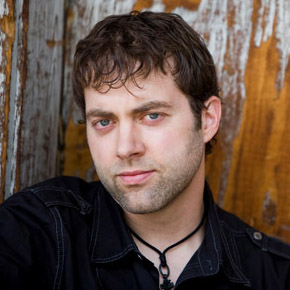 Shane Martin, a talented, modern country singer/songwriter based in Independence, Minnesota, has won the November SingerUniverse "Best Vocalist Of The Month" Competition, for his performance of his song "As Long As It Takes" (co-written by Zac Wrixon & Phil Solem). This song is included on Martin's latest album, Light It Up, which he released independently last month (October 2012).
"As Long As It Takes" is a well crafted, midtempo country song which flows nicely from beginning to end. This song provides a fine showcase for Martin's soulful, expressive lead vocals. The chorus is also strong—the melody is appealing and Martin's background harmony vocals add a rich, hooky texture. "As Long As It Takes" was expertly produced by Nashville producer/engineer Kenny Royster, who has worked with Craig Morgan, Richie McDonald of Lonestar, and Rebecca Lynn Howard.
Martin was born and raised in Albertville, MN, which is a suburb 30 miles northwest of Minneapolis. He started to play piano when he was 10, and then learned to play acoustic and electric guitar. He was inspired by listening to such favorite artists as Edwin McCain. the Black Crowes, and U2. During high school he was a top athlete who received football scholarship offers from several universities. But when he suffered a major knee injury, he then focused on music.
After attending the Musician's Institute in Los Angeles for a year followed by two years of community college, Martin decided to pursue his pro music career fulltime. He has since released an EP and three full albums, and has steadily performed live and toured. He now plays 150 live shows per year (both as a solo act and with a band), mostly in the Midwest. Martin released his debut EP Moody Waters in 1998, followed by the full albums Thread (2005), Rewind (2010) and this year's album, Light It Up. "I've been building a name in the Twin Cities area, and with each album there's been a progression," said Martin.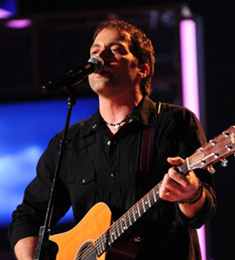 For his 2010 album Rewind, Martin wrote all the songs by himself, but with his new album Light It Up, Martin decided to co-write with several Nashville writers. "I like collaborating, and I now come to Nashville several times a year," he said. "I also like working with Kenny Royster—he does an excellent job and he's produced my last two albums."
Notably, earlier this year Martin was a Top 5 Finalist in the Texaco Country Showdown, which is a national competition that attracts thousands of entrants. Martin got the opportunity to perform at the famous Ryman Auditorium for the Showdown, which was hosted by LeAnn Rimes.
For the coming year, Martin plans are to promote his new album, tour more nationwide, and continue to build a bigger fan base. Also, "I want to commute to Nashville as often as I can to network, co-write for my own albums and to place songs with other artists."
Top Five Vocalists Of The Month
"BEST VOCALIST OF THE MONTH" WINNER
Song Title:
"As Long As It Takes."
Performed by:
Performed by Shane Martin of Independence, MN. Written by Shane Martin, Zac Wrixon & Phil Solem.
MORE BEST VOCALISTS OF THE MONTH
Comments