Chris Cleveland (of the rock band Stars Go Dim) Named October "Best Vocalist Of The Month"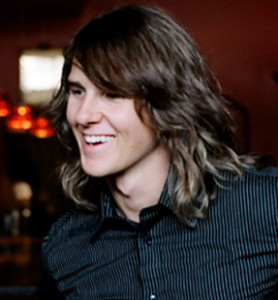 Chris Cleveland, a rock/pop singer/writer/pianist (based in Tulsa, OK) who fronts the band Stars Go Dim, has won the October SingerUniverse "Best Vocalist Of The Month" Competition, for his performance of the group's song, "Love Gone Mad." This song is featured on Stars Go Dim's new five-song EP, and it's also the title cut of the band's debut album, which will be released next March (2009).
"Love Gone Mad" is a contemporary, rock/pop power ballad, which provides a good showcase for Cleveland's clear, expressive lead & harmony vocals. The recording starts with a sparse piano track (played by Cleveland), then gradually builds into a dynamic, full-band sound when it reaches the chorus. "Love Gone Mad" also features well-played music tracks by Stars Go Dim members Joey Avalos (guitar), Michael Wittig (bass) and Lester Estelle (drums).
Cleveland was born and raised in the small town of Owasso, OK, which is near Tulsa. He grew up in a gospel music environment – his parents were in a gospel singing group, and his mother was music minister at church. "I played piano at church, and our family traveled doing a worship concert tour," recalled Cleveland. "But I also grew up listening to The Who and Led Zeppelin, and more recently to John Mayer and Gavin DeGraw."
Following high school, Cleveland formed a Christian rock band named Sweet Memorial with his brother, and they released an album called Just Another Day At The Office. Also during this period, Cleveland attended two colleges (Oklahoma State and Ozark Christian) before settling in at Tulsa University, where he is about to graduate with a degree in psychology.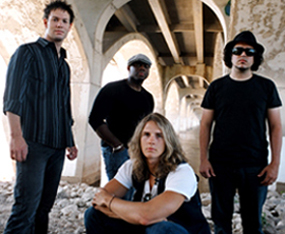 Besides his singing, Cleveland is also a pro piano player, and it was during a piano recording session for the Christian rock band Pillar that he met Joey Avalos. They started collaborating, and soon after Stars Go Dim was formed. "We first got together in January 2007, and it kind of snowballed from there," said Cleveland. The group has been recording their album off-and-on since then, and they have just released their five-song EP Stars Go Dim, which is available to purchase on iTunes, MySpace and their own site.
With Stars Go Dim's full 10-song album Love Gone Mad due out next March, the band is getting ready for touring, and a big promotional push. "We have our team assembled, with great marketing and PR," said Cleveland. "When the album comes out we'll be touring hard. We've already played opening gigs for Daughtry and Switchfoot, and we're working on getting on some big tours for next year."
Top Five Vocalists Of The Month
"BEST VOCALIST OF THE MONTH" WINNER
Song Title:
"Love Gone Mad."
Performed by:
Performed by Chris Cleveland (of Tulsa, OK) of the band Stars Go Dim. Written by Joey Avalos of Stars Go Dim.
MORE BEST VOCALISTS OF THE MONTH
Comments