Talented Sister Duo FAARROW Talk About Their Unique Story And Debut EP On Warner Bros. Records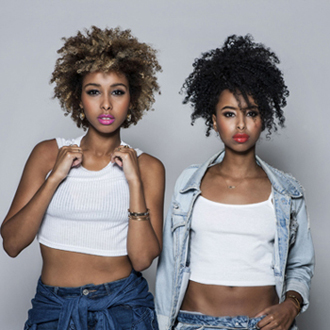 Sisters Iman and Siham Hashi, who are known as the music duo, FAARROW, have traveled a long way on their path to achieving music excellence and creating their distinctive pop/R&B sound. They have signed with Warner Bros. Records and recently released their debut EP, which is called LØST.
Their new EP showcases the duo's strong, soulful vocals, empowering lyric themes and dynamic production which appears ideal for contemporary radio aitplay. Notably, all the songs on the EP were written by Iman and Siham with their producer, Elijah Kelley.
The background and story of FAARROW is unique and compelling. First, their name FAARROW was created to combine the meaning of the sisters' Arabic names Iman ("faith") and Siham ("arrow"). Iman and Siham were born in Mogadishi, Somalia—their mother was a diplomater whose work stationed the family in various countries, including Saudi Arabia and Germany. After the civil war broke out in Somalia in 1991, the family fled their homes to escape the conflict and relocated to Toronto as refugees. It was there that the sisters identified and developed their musical ability, but told no one for fear of the cultural taboo in their conservative, "traditional" household.
To pursue their musical dreams, Iman and Siham decided to move to Atlanta, GA. After just six months, they signed a record deal with Universal Motown, becoming the first female artists of Somali-descent to sign with an U.S. major label. However, after time had passed and there was no record release, they decided to move to Los Angeles to start a new life and new sound.
In Los Angeles, they met Elijah Kelley, a writer/producer who is also known as a successful actor (who's appeared in such movies as 28 Days, Hairspray and Lee Daniels' The Butler). Iman and Sihan began collaborating with Kelley, and they created the impressive songs and recordings which led to the duo securing a label deal with Warner Bros. Records.
FAARROW's EP, LØST, was released on July 15, and the duo is now working with Kelley on their full debut album.
We are pleased to do this Q&A interview with Iman and Siham Hashi of FAARROW. They discuss their unique, international background, their collaborations with Kelley, and signing with Warner Bros. Records.
DK: At what point did you decide to pursue your music career as artists? Was it when you were in Toronto or Atlanta, after you had left Somalia?
FAARROW: We started out our pursuit in the music industry in Toronto, Canada. But to take it to the next level, we had to make the move to America. We had family in Atlanta and that was the only reason our parents even allowed it. [Moving to] Atlanta ended up being the best decision ever.
DK: How did you come up with your group name, FAARROW?

Here's the video of FAARROW's song, "Chasing Highs."
FAARROW: Our names are Arabic, Iman meaning Faith and Siham meaning Arrow.  We put Faith and Arrow together and came up with FAARROW.
DK: How does your Somali background influence your style of music, and the message you want to convey with your songs?
SIHAM: Being former refugees of Somalia isn't really something you can just skip over. It's a big part of who we are and why our music has a very powerful underdog theme. As young women,  we've had to overcome many obstacles pursuing our passion. 
IMAN: In our culture, it's highly stigmatized when woman express themselves creatively, so GIRL POWER has been a theme of ours as well. 
DK: How did you hook up with music producer & actor Elijah Kelley? Did he help you get your label deal with Warner Bros.?
IMAN: We met Elijah when we first moved to L.A. and we became friends with him before we ever did music. We found out later on in our friendship that he's an incredible musician, producer, and writer. When Elijah started producing music for us, the timing couldn't be more perfect because we were so frustrated with the lack of commitment and follow through with producers we were working with at the time. 
SIHAM: Elijah also introduced us to the best lawyer in the game, Kenny Meiselas.  He set up the meeting at Warner Bros. and collectively we were able to get an amazing deal. 
DK: I like the songs on your new EP; they have a lot of energy and spirit. Did you write or co-write these songs?
FAARROW: We co-wrote the entire EP with Elijah.  
DK: Did Elijah Kelley produce the five songs on your EP, or did you also work with other producers?
FAARROW: Elijah produced the entire project, which a lot of people find shocking because he's mostly known for being an actor.
DK: Now that your EP has been released, what are the plans for FAARROW? Will you be appearing on TV shows or going on tour?
FAARROW: We have a lot great things lined up since our EP launched.  We have upcoming shows and are working on putting a tour together now.
Comments