Renee Grant-Williams Is Top Vocal Coach For Many Hit Country and Pop Artists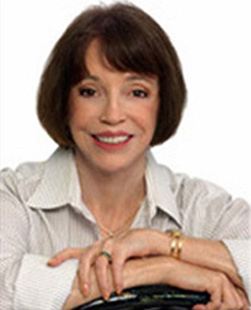 Anyone listening to country music these days has no doubt heard the significant contribution of voice coach Renee Grant-Williams. Just as athletes use skills they have learned from coaches to enhance their performance, many of music's best performers have a similar secret weapon in Grant- Williams. She has worked with Nashville's elite such as Tim McGraw and Faith Hill, the Dixie Chicks, Keith Urban, Kix Brooks, Martina McBride, Kenny Chesney, Randy Travis, and pop stars Christina Aguilera, Huey Lewis, Bryan White and more, and has recently been featured in several reality shows, including a two-hour episode of Amy Grant's Three Wishes and an upcoming episode of ABC's Extreme Makeover.
Grant-Williams recently talked about working with some of music's best voices, as well as her experiences with reality television. She also discussed her background in teaching, focusing on some of the techniques she employs to get the best performances while keeping the singer's instrument – the voice – in optimal condition.
Coming from an essentially nonmusical family, Grant-Williams' found her true calling after attending an opera while in college in Pittsburgh. "I had never seen an opera before," she recalled, "I remember walking home in a cloud. My life was transformed. " Her self-described "big voice" helped her earn a full scholarship to the San Francisco Conservatory of Music, where she learned how much about music she had yet to learn. "I knew nothing," she said. "I had no idea why major was bigger than minor. I didn't know what was so perfect about fifths."
While at the Conservatory, Grant-Williams got her first taste of teaching. "My professor, Donald Stenberg, had an excess of students and he was looking for someone who could learn how to teach voice, so he trained me. I was hired by my alma mater to teach, among other courses, remedial voice, which is the worst course a voice teacher's ever had to teach. But the Conservatory always gave me a job. They were very good to me."
From San Francisco, she moved to New York where she worked as music director for an off-Broadway show at the Actor's Studio in Manhattan. While waiting for the show to come together, she briefly joined a country band, the Timms Brothers, from Wilmington, N.C., living in the Bronx. "We were the ugliest band ever to hit New York, but we actually sounded pretty good."
Grant-Williams was invited to Nashville to front a band that previously had Pam Tillis as its singer. "It didn't work out with the band, but I really liked Nashville." She took a job as music director at Nashville's Second Presbyterian church (which was featured on the cover of one of Elvis' Christmas albums) and continued teaching.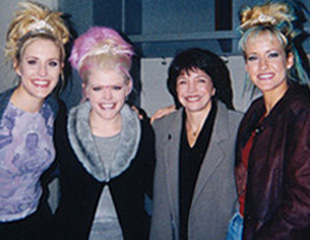 In no time, Grant-Williams had developed an impressive list of loyal students including Linda Ronstadt and Gary Morris, Charlie Daniels, Bob Weir of the Grateful Dead, Huey Lewis and John McEuen of the Nitty Gritty Dirt Band.
Grant-Williams shares a Jan. 8 birthday with her example of the perfect singer. With his strong legs tucked under like a karate position, loose upper body and head cocked over for resonance, she believes Elvis Presley's study of the black music of his time enhanced his performance skills to near perfection. She uses his example to illustrate to students how to use their entire bodies to create the best possible sound.
"My teaching is more unorthodox than any other method I've seen," she said, "and it works great. I like the way you can make a tiny adjustment and a huge change can happen. Everybody's so different, like pieces of clay, and everyone has a key to be unlocked. I like to start from the center and work outward. I have students warm up from their speaking voice, then, add scales slowly and gradually. I have them optimize a few elements before they are asked to coordinate all the elements."
Grant-Williams uses a technique called "passive breathing" to help students maintain and sustain their breathing as they sing. Rather than taking in big gulps of air, she recommends allowing the air to flow in and out naturally. Posture and body position also play an important part. "My teaching is very physical," she said. "There's a stance people will recognize in singers like Faith Hill, Tim McGraw and Celine Dion, where they use their whole body (as support to achieve their incredible sound). I have a sign in my studio that reads: 'It's the support, stupid.' It's there not only for my students but also for myself. Other things are important, but when you get down to it, it's all about the support."
In addition to resonating in the collarbone rather than the throat, Grant-Williams spends a lot of time focusing on rhythm. "I find that rhythmic integrity has a lot to do with tone and pitch. If a singer cues into the syncopation and rhythm, it will cradle their singing." She cites the importance of consonants and placing the right amount energy in the right place in a song. Also, silence plays an important part in a song's effectiveness. "Silence to me is not the same as nothing. It is one of the most important tools a singer can use. It sets up tension and drama."
Grant-Williams is very busy these days. Her book, "Voicepower" for keynote and public speakers has been endorsed by one of this country's most famous speakers, Paul Harvey. It can be purchased anywhere great books are sold. Her online course on public speaking, "Stand and Deliver: Speaking With Confidence," is presented by Barnes and Noble Online University every other month (next class begins Nov. 2005).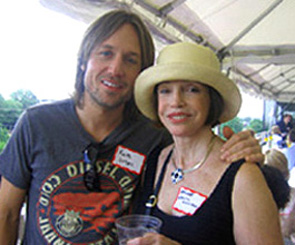 For anyone interested but unable to attend classes in person, her "Vocal Master Class" is presented as a three-part DVD covering the basics of her technique. It is designed for singers at any level – from novice to seasoned professional. A companion warm-up CD is also available. Both can be purchased through her website (please see her website link below).
On Nov. 3, she will interview recording artist Andy Griggs in the first of a series of teleseminars that are free, with limited space. She has distilled several questions down to a dozen or so, where the artist will discuss what worked for him, what didn't work, how to start a fan club, and other topics of interest to hopeful artists.
Her eighth annual "Master Class" will be held April 22, where a limited number of students will get the opportunity to learn from the best writers and teachers in the Nashville music scene, then apply what they've learned singing for industry professionals.
In an interesting twist, Grant-Williams has become the darling of the reality show. She was recently featured in a two-hour episode of Any Grant's Three Wishes, where she was enlisted to make a young woman's dream to be a country singer come true. "She was a little timid at first," Grant-Williams recalled, "but she worked very hard and did a really good job." On the same night as Three Wishes, her cheeseburger art collection was featured on the Food Network's show, Unwrapped. "It's not everyday you get to be on network television, but to be competing against yourself for ratings was really something," she laughed. Grant-Williams will also be featured in an upcoming segment of ABC's Extreme Makeover.
For more information on any of Grant-Williams shows, products or seminars, visit her website at www.MyVoiceCoach.com.
Jayne Moore is a freelance music/entertainment journalist. She has launched a new service, writing bios, articles and press releases. Moore can be contacted at musicgerm@hotmail.com. You can also visit her website: www.musicgerm.com.
Comments