Pop Star Hilary Duff Talks About The Making Of Her Album Dignity, And Her Songwriting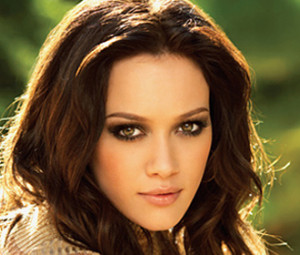 Since reaching teen stardom as the self-conscious title character on the popular Disney Channel series Lizzie McGuire in 2001, Hilary Duff has become a true multi-media pop figure. She is now well known as a popular TV and movie actress, plus she has also scored multiple hits as a singer & songwriter. Her latest album, Dignity, which features a more sophisticated, electronic/pop sound, was released April 3 on Hollywood Records.
Dignity follows an impressive string of successes on the pop charts and beyond. Duff's #1 2003 debut album Metamorphosis went triple platinum in the U.S. and sold five million units worldwide. Her platinum second album, Hilary Duff, hit #2 on the Billboard Top 200 in 2004 and racked worldwide sales of over three million, while 2005's Most Wanted (another #1) hit the two million mark. To date, she has sold over 13 million albums worldwide.
Duff's most commercially successful films include Cheaper By The Dozen, The Lizzie McGuire Movie, Agent Cody Banks (all in 2003) and 2004's A Cinderella Story. In early 2004, just as she was wrapping up her three-year run on the TV show and scoring the hit singles "So Yesterday," "Come Clean" and "Little Voice," she launched her own clothing line, Stuff By Hilary Duff, which was distributed by Target stores in the U.S. The line was re-launched in 2006 for Duff's debut fragrance With Love…Hilary Duff by Elizabeth Arden. It was one of the three best-selling fragrances launched at U.S. department stores in late 2006.
Describing Dignity's sound as "a little less pop rock and more electronic-sounding," Duff has more of a say than ever before as a songwriter, penning all but one song ("Outside Of You") with longtime collaborator/producer Kara DioGuardi and other writer/producers, including Rhett Lawrence, Tim & Bob and Richard "Humpty" Vission, as well as will.i.am from the Black Eyed Peas.
Released as something of a "teaser" months before the album was finished, Dignity's first single "Play with Fire" became a minor club hit; its follow-up, "With Love," was released in early 2007 hit #24 on Billboard's Hot 100. In a cross-promotional strategic move, the music video for "With Love" doubled as the TV commercial for Duff's fragrance.
Duff says, "There's something really exciting about having this new record be so personal, really writing and actually living it based on so many unique life experiences I've had. Those people who listen will learn so much about me and where I am in my life right now. It's a really honest record and shows a new side of me that I've never shared before…I can't wait to get out there and get back into touring again after taking some time off. I'm looking forward to really being myself and having people understand that there's more to me than just being a nice normal girl. I am nice, but there's stuff behind that as well, and I'm sharing it because I think they'll relate to me and understand."
After taking some time off from music to make a handful of movies over the past few years – including the upcoming War, Inc. with John Cusack – the process of writing the songs for Dignity found the 19-year-old singer reflecting on her life and rediscovering the passion to express herself again. "Dignity is a strong title," she says, "and my mom has always tried to instill it as a value both in me and (my sister) Haylie. It's not something you're just given or get easily, but something you have to work on and that I always hope to strive for. We decided to release 'Play With Fire' well in advance to give listeners a chance to get into my new sound, which matches the whole dance/electronic rock sounding vibe.
"I wanted to work on some movies because as much as I love the road, its very exhausting and I needed a break for a while," she adds. "I needed the break to find my passion again, and I got back into writing easily by just looking back on the last years of my life. I'm able to write what I feel, whether it's good or bad, and open that part of myself up. It's really exciting finding out I can do it. It's easy and exhilarating, so freeing to look inside yourself and feelings you've held onto for a long time. I was glad I took the break to make the movie with John (Cusack), because when I got back into the studio, I had a lot more experiences to write about. A lot of Dignity is serious, but some is tongue and cheeky. It's so my personality, so me and everything I am thinking about."
Other New Projects
In addition to her film, music and fashion careers, Duff is involved with several charities, is an animal rights enthusiast, a member of Kids With A Cause and donated $250,000 to help the victims of Hurricane Katrina. In 2005 she donated more than 2.5 million meals to Hurricane Katrina victims in the south. In late August 2006, she traveled to a New Orleans elementary school and worked with USA Harvest to distribute meals.
"I was thinking recently about where I am now in my life, and how comfortable I feel about myself," she says. "I'm a long way from where I started, when I was so nervous just doing my very first video and having no idea if the music career was going to work out. I've had so many wonderful experiences since then that have helped me grow. Everything is a natural progression. It's funny when I look back and see silly things I used to do, facial expressions and dance moves I used to make. I'm sure I'll look back on today in ten years and not believe I could wear what I'm wearing now! One of the songs on Dignity is 'Happy,' and that says it all — I'm happy now, and really lucky to be in a good place in my life. I work hard but I also have a nice life outside of my work and a great family that has helped me stay grounded along the way."
Jonathan Widran is a free-lance music/entertainment journalist who contributes regularly to Music Connection, Jazziz and All Music Guide. He can be reached at Few522@aol.com. He is also on Google+

Comments