Rising Pop Artist Ivy Levan Talks About Her Debut Album No Good, And Her Single "Biscuit"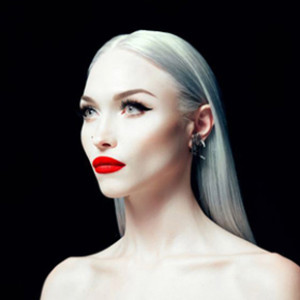 With the success of "Biscuit," the lead single from Ivy Levan's debut album No Good that hit #5 on the Billboard Hot Dance Club Songs early in 2015, the Arkansas born, L.A. based vocal powerhouse found a way to introduce a unique swatch of elements that define her as a singer and songwriter.
Stylistically, she introduces a fresh vibe she dubs "swamp hop," a branding designation reflective of her Southern roots, a swamp-like mix of "ominous textures with a lot of life happening," infectious dance grooves and a ton of fresh, in-your-face attitude. The video for the song, which has racked up over 1.2 million views on YouTube, intercuts shots of her in a tight strapless red suit with gloves and a literal dancing marionette biscuit with eyes—a clever reference to both a staple of the Southern diet and the double entendre of the song, in which she says to "kiss it, my biscuit."
"I've gone through a lot in my life," says the 28-year-old-singer, "and I feel like I have a lot to say. The songs on No Good are basically snapshots of things that have happened to me just living every day. For me, songwriting is all about emotional honesty and how I deal with things in life. For this album, an idea would hit me in the moment and I'd just go with it. And the lyrics are the same way—it can be something as basic as being stuck in traffic or a deeper self-reflection about past relationships."
Focusing on the inspiration behind "Biscuit," she adds, "The song is about dealing with haters, and the noise they make. The song finds me pissed off about people taking things so seriously and coming up with their own assumptions about who I am. So basically, I'm telling them to F off, making noise like I'm not hearing it and it's water off a duck's back. I'm not fighting back aggressively, but in a healthy way, using comedy as the medicine. Rather than engage their negativity, I'm using it to my advantage to make myself laugh."
No Good, released by Cherrytree/Interscope Records, builds on the brash vibe Levan introduced on her 2013 debut EP Introducing the Dame which generated buzz from numerous media outlets, including Billboard, which called her "an entrancing pop singer with uninhibited soul-infused stylings"; Allure, who called her music "powerful and dark, but also a bit playful"; and The Huffington Post, which praised her "vocal virtuosity." On the strength of "Biscuit," Levan hit #1 on Billboard's Next Big Sound chart, and was declared Yahoo! Music's next It Girl and MTV Buzzworthy's "New Obsession." All told, her songs—including the James Bond-theme flavored "Who Can You Trust," the theme to the hit film "Spy," starring Melissa McCarthy—have racked up over 4.3 million YouTube views.
Because star power is always a key ingredient in helping launch a fresh artist, No Good is generating a lot of excitement because of its big name collaborations. On "Killing You," her haunting, bass-driven duet with labelmate Sting, she takes an honest look at "the self sabotage that can happen when blinded by love." A provocative look at the "live-fast-die young mentality, "27," her collaboration with Diplo, pays tribute to all the musical legends who died young—including Janis Joplin, Kurt Cobain and Jim Morrison. On the R&B/club flavored "Best Damn Thing" and "No Good"—a track she says "brought out a sense of femininity and sexuality that I've never written about before"—she teams up with Tomo Milicevic, lead guitarist of the Jared Leto-led band 30 Seconds to Mars.
Levan attributes her development as a songwriter to her ongoing partnership with Lucas Banker —a producer/songwriter who has worked with Selena Gomez and Junkie XL—and his partner Patrick Nissley. Their first collaboration was her was "I Don't Want To Wake Up," her "hangover anthem" released in 2012. The three songwriters are unique in that they not only work together in the studio, they actually all live together fulltime. That dynamic leads to a lot of spontaneous songwriting whose initial spark can come from almost anywhere or anything—a phrase, a riff, a groove, etc.
"We work together and play together like a family of musical worker bees," the singer says. "We don't set a specific time or day to write songs. It's usually just one thing or another that gets us going. Maybe I'll be stuck in traffic and I'm pissed off and I'll say, 'You're gonna get yourself killed.' That's essentially how 'I Don't Want To Wake Up' started. While my personal strengths are on the lyric and melody side, we all contribute different things depending on our starting point. On one song, I'll write all the lyrics or bring in a melody, on another Lucas will have the guitar riff, or Patrick has some beats he's come up with. Collectively, we form a great team and we're very much in synch. They've been family to me for close to four years. I think what keeps the chemistry strong is the trial and error of the process—because the things that don't work well make it clear what we don't want, so we can focus on what flows more naturally. All I know is, when I met these guys and I started writing, it was magic and it felt good and honest for the first time, so I latched on."
One of Levan's identifiable trademarks as a songwriter is her fearlessness. She says she's not afraid of being vulnerable or telling a story the way it needs to be conveyed, a perfect reflection of being in that moment, with no limitations, regardless of the brutal honesty it requires. "To me," she adds, "a great song is one that can evoke some sort of emotion, that feeling you got as a kid when you scored an ice cream cone, that super pure simplistic happiness that comes from being silly and not caring about anything. I don't like the whole going through the motions thing. When we're writing, we want to tap into those deep, dark parts of ourselves to create pieces that touch the heart and grab people by the neck."
She says there's no specific formula or guide she can share with young songwriters to help them with their journeys. "Writing a song is based purely on, if it happens and if you enjoy it, continue to do it—but if you're compromising yourself or not happy, look in a different direction and try something new with your life," Levan says. "If you stick with it, just don't be afraid to break down barriers or express yourself in different ways. For me, the payoff comes when I'm performing the music onstage and I see people light up because of something I'm singing. They may not even know who I am when I get up there, but by the second tune, they see I'm telling a story and forget everything else that's going on so they can share the moment with me. That's the most gratifying thing, the unification of my storytelling and everyone sharing that experience with me."
Jonathan Widran is a free-lance music/entertainment journalist who contributes regularly to Music Connection, Jazziz and All Music Guide. He can be reached at Few522@aol.com. He is also on Google+

Comments