Rising Artist Jacob Latimore Talks About His Debut Album and Single "Like 'Em All"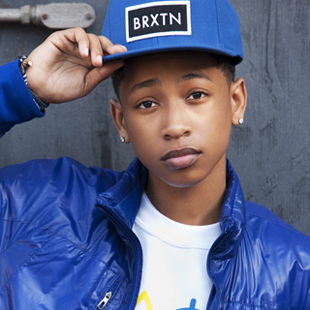 As 15-year-old Jacob Latimore continues to work on his debut album—scheduled for an early 2012 release—with a bevy of top hitmaking producers, the talented young artist's label RCA/Crown World Entertainment is finding unique ways to whet everyone's appetite.
In late 2010, Latimore released "Like 'Em All," his infectious debut song featuring 16-year-old rapper Diggy Simmons (son of Run-DMC's Joseph Simmons); its video has received over 3.7 million hits on YouTube. Now, after a summer promo tour (hitting malls, camps and radio stations) for his follow up track "Nothing On Me," the singer is putting out what the label is calling his first "official" single: a new version of "Like 'Em All" featuring his label mate, 16-year-old emerging rapper Issa. The track was co-written by Latimore and produced by Teddy Riley (Michael Jackson, Blackstreet, Robin Thicke). Its release coincides with the launch of the national two-month, 22-city Scream Tour: The Next Generation (NXG), whose lineup includes Latimore, Mindless Behavior, Diggy, The New Boyz, Hamilton Park and the OMG Girlz.
"Performing is one of my favorite things," says Latimore, "and I loved being on the promotional tour, entertaining fans and giving them what they want. I'm really looking forward to traveling across the country with my peers and singing for people every night in larger venues for the first time. I'm going to be doing a 15-minute set with six or seven songs that will give people a preview of my upcoming album.
"The release of the first version of 'Like 'Em All' blew up a lot bigger than any of us thought it would, and everyone thought it would be a cool thing to put out a new version so the fans I made from the first can have something fresh in their ears," he adds. "I think the new version has more of a soul and R&B flavor that shows my maturity as an artist and person. I love the first one, but it was definitely lighter, more pop and 'kiddy.'" It was all about being the new guy on the block and catching people's attention, plus letting the world know through the video about my equal passion for dancing. The main thing is, they're both fun and I'm excited that so many people are enjoying them."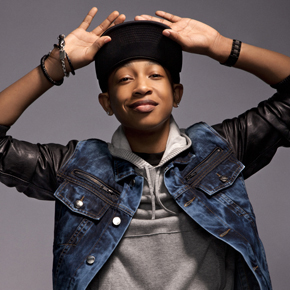 The Milwaukee native's desire to follow in the footsteps of legendary artists like Michael Jackson and Usher comes naturally, even genetically; his father and uncles have an inspirational quartet called The Latimore Brothers. When he was five, Latimore's grandfather showed him The Temptations, a four-hour TV miniseries based on the famed Motown group that was first aired in 1998. The young singer became obsessed, watching it every day, emulating and honing the songs he heard and the dance moves he admired. Another big early influence was the boy band B2K. Latimore studied their moves from a videotape his mom gave him and made dancing an integral part of his life as a performer.
Latimore was nine when he asked his parents' support and blessing to pursue a musical career. He teamed up with several Milwaukee-based producers, who worked with him on his first song, "Best Friend." Local DJs and radio stations heard and played the song and the resulting buzz led his mom to book Latimore at local events, festivals and schools. He gained national exposure for the first time when Radio Disney started spinning "Best Friend" and featured the young singer on its Incubator program, which profiles promising young artists around the country. This exposure helped Latimore book shows with other Radio Disney favorites like B5; a Myspace video led to his first national TV appearance in 2006 on a segment The Maury Povich Show called "Most Talented Kids."
In 2007, Latimore's parents moved him to R&B music mecca Atlanta, where his "team" set up a showcase to introduce him to the city's media executives and tastemakers; those in attendance included everyone from Rodney Jerkins to R&B singer Lloyd. The singer made his national recording debut with "Superstar," a track penned by Rico Love (Beyonce, Diddy, Usher) that charted on the Billboard R&B and Hip Hop charts with little or no promotion. Soon after impressing his idols Usher and Mario and signing with a new management team, Latimore signed with Jive Records in early 2010.
Although Latimore is focused on his music, he has also booked numerous commercials, voice overs and TV episode appearances (Tyler Perry's House of Payne, One Tree Hill, So Random!, Reed Between The Lines) since 2008. His lead role in the 2011 post-apocalyptic horror-thriller film Vanishing on 7th Street (with Hayden Christensen, Thandie Newton and John Leguizamo) earned raves.
"It's definitely a challenge, but I think I can do it all, balancing acting with my singing career," says Latimore. "The main thing is, doing things that make people feel good and put a smile on their face. I feel like these are the things I was born to do, and I give all credit to God, who gave me these gifts and the open doors that have helped me share them. I tell kids I meet who want to do what I do that faith is a big part of the journey, but it's also about working hard, respecting your parents and really chasing your dreams instead of just sitting around and talking about them. Success is all a matter of how badly you really want it."
Jonathan Widran is a free-lance music/entertainment journalist who contributes regularly to Music Connection, Jazziz and All Music Guide. He can be reached at Few522@aol.com. He is also on Google+

Comments