Pop/R&B Artist Jadyn Maria Signs With Ne-Yo's Compound/Universal Label, & Tours with Ne-Yo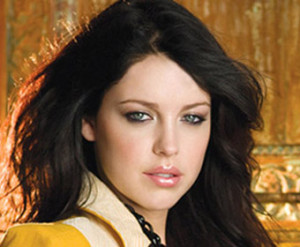 A great start for any brand new aspiring singer/songwriter is being paired with a major hitmaker and top producer who has all the connections and with someone who can make great things happen. This is exactly what happened for the talented, multi-faceted young artist Jadyn Maria. Within months of accompanying the multiple-Grammy award winning artist Ne-Yo on his Year Of The Gentleman tour as a support act, the 24-year-old singer/songwriter was the first artist signed to Ne-Yo's Compound Entertainment label via Universal Motown Records.
There's an old saying about being in the right place at the right time and Jadyn Maria obviously learned that lesson well. When asked how she met Ne-Yo and landed her record deal, she said, "Ne-Yo is a songwriter at Universal Music Publishing and I had signed with them (Universal Music Publishing) about two years ago. Jennifer Blakeman, (Senior V.P. Universal Music Publishing Group), is how I met Ne-Yo. She knew I was pursuing artistry and told me, 'if you can get Ne-Yo to catch your vision, I don't think there would be anybody more perfect for you to work with.' Because I was always a huge fan of his as a writer and as an artist, I told her yes, let's do whatever we can to make that happen."
Jaydn Maria wrote and recorded two songs, not knowing what would become of them. As luck would have it, she was driving her car when she heard Ne-Yo's voice come over her phone. "Hi Jaydn, this is Ne-Yo. I heard your songs and I was really impressed with your writing and really like your voice. I think you should sign with me and should be my first artist." Needless to say, Jadyn didn't have to think about his offer for long and knew what her answer would be. Now that's having the right connection at the right place and right time!
Making Her Debut Album
Jadyn's debut album for Compound Entertainment, titled Man's World, hits stores in Fall 2009 and features songs written by Ne-Yo, Katy Perry, herself, hit writing/producing duo Stargate, and producers/writers/rappers D. Smith, B Major, Flo-Rida, and others.
Jadyn Maria wrote "about half" of the songs for the album. "I was honored to write about half of my album and I didn't want to limit myself because I take pride in my writing. It's therapeutic and helps me get my emotions out," says Jadyn.
Working With Ne-Yo
Two years ago, Ne-Yo included Jadyn Maria as a support act during his Year Of The Gentleman tour. When asked about working with Ne-Yo, Jadyn Maria gave mad props to Ne-Yo saying, "You know it's crazy. I am the first artist signed to Ne-Yo's record label and getting to hang out with him so much and being able to call him a friend…sometimes you forget what a huge star and huge talent he is. What a dream come true. This is huge for me and I feel so blessed. These opportunities are amazing because he is one of the nicest, most genuine people you'll ever meet."
She duets with her Ne-Yo on "Little Things," a song he co-wrote with British star Natasha Bedingfield. "Little Things" sends a really great message. "The lyrics are so true for everyone because we can all take people for granted and we don't realize some times that it's the 'little things' that matter the most. It's that simple, that's the message," adds Jadyn.
Writing Her Single With Flo-Rida
The first single, "Good Girls Like Bad Boys" shipped to radio in June 2009 and features the Grammywinning rapper Flo-Rida. Jadyn Maria's fans are still making a lot of noise about their collaboration. "I am thrilled and honored to have such collaboration with Flo-Rida. He was so humble about collaborating with me, a brand new artist, and because of his stature, he could have easily said no."
Collaborating With Katy Perry
Jadyn Maria and singer/songwriter Katy Perry have been friends for about six years. Jadyn appeared in Katy's music video for "Hot n' Cold" in 2008. Now Katy is contributing to her friend's success by contributing songs to the CD. "My friend Katy is a gifted songwriter and she helped me write "Man's World;" she is a very visual writer and that's important. We have very similar upbringings so I think that also brought us closer together," states Jadyn.
More About Jaydn Maria
Born into her talents in Puerto Rico, Jadyn grew up singing in the church since the age of 2! At 14, singing really hit her and she realized that singing was more than just a hobby — it was her calling and her passion. She started singing wherever she could and really pursued it with the support of her parents who took her to whatever performances she could get. At 17, she was signed to EMI and recorded under the name of Jadyn Strand with Avalon band member Jody McBrayer on the song "Never Alone on his 2002 solo album, This Is Who I Am. She also recorded a cover of U2's "With or Without You" withn hip-hop group GRITS, on the U2 tribute album: In The Name Of Love: Artists United For Aftica.
The stars are still properly aligned for Jadyn Maria's next single release from Man's World. "I am very blessed and I am definitely with the right people in my life. My label, Ne-Yo, and everyone on my team fully support me," says Jadyn. She makes it happen with hard work, being in the right place at the right time and staying connected in every sense of the word.
Paula Edelstein is an award-winning music journalist and author. She contributes to All Music.com, Sounds of Timeless Jazz.com, and Suite101.com. She can be reached at paula.edelstein@att.net. She is also on Google+
Comments