Rising Pop/R&B Artist Jasmine Villegas Releases Single on Interscope Records, Readies EP and Album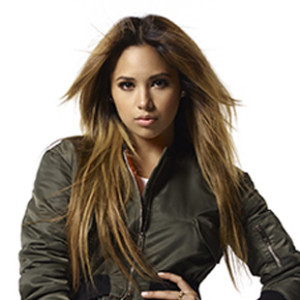 On Jasmine Villegas' website, there's a simple quote which truly understates the talented artist's array of musical activities and impact she's had on social media these past years as she gears up for the release of her debut EP on Interscope, followed by her full-length debut album in early 2015. "I'm just a simple girl living out my dreams," says the 20-year-old singer, whose long-awaited debut single "That's Me Right There" featuring hip-hop star Kendrick Lamar was released in August. The sensual yet edgy video (also featuring Lamar) currently has over 2.4 million views on YouTube, a fraction of the 100 million total views her dedicated page (which includes a behind-the-scenes series called JasmineV TV) has received.
Produced & co-written by Harmony Samuels (Jennifer Lopez, Keyshia Cole, Ariana Grande's "The Way"), "That's Me Right There" reflects the unique sound that Villegas has been seeking in the years since she was originally signed to Sony/Epic at 16. Back then, before the departure of the A&R exec who championed her led the singer to leave the label as well, she was recording any excellent song that came her way in all different genres, without a clear artist voice or vision. "After all these years of trying to find myself and create myself, I finally did," she says.
"It's a great opening track for me because it's all about me finally being comfortable and confident in myself and, in the song itself, where I stand in the relationship," the San Jose, CA native adds. "I definitely want to keep it real with my fans, and whether I'm involved in the writing or not, every song I record comes from me and the experience and emotions I'm going through. I want people to be able to listen no matter what mood they're in. I'm bringing them a mixture of emotions that I hope they connect with and can help them have fun and get them through any problems they're going through. Kendrick's on my label and I've been a fan for a long time. When he came to the studio he asked me how I wanted him to attack his verse and I just said, 'Do your thing.' His verses weren't too explicit but perfect as a reflection of my transition from teen artist to young woman."
Between her Sony/Epic and Interscope signings, Villegas found exciting ways to keep herself on the pop radar. She first gained notoriety appearing in Justin Bieber's video for "Baby," which earned her a spot on the then-teen icon's 32-city My World Tour and impelled the subsequent success of "S(he) Be(lie)ve(d)," her popular 2011 mixtape that yielded three successful buzz tracks, "Jealous," "Werk" and "Just A Friend." The creative nine track project used music and spoken word to share her thoughts (edgy, yet clean) on topics related to things she had been going through at the time. She narrated between songs and included the sound effect of writing on a notepad. "It was like sharing a diary with people, venting my thoughts about being in love, breaking up, falling out of love and then finding the light again—something that can apply to any situation in life, even outside of romance," she says.
Discovered at age 11, Villegas perfected her skills under the direction of music mogul Dame Dash's Dash Music Group, and current manager, Gabriella Mosci. That same year, she garnered much attention after an impressive rendition of the national anthem at a Los Angeles Clippers game. Since then, the singer has gone on to perform at over 15 sporting events, including the Floyd Mayweather vs. Victor Ortiz boxing match—an appearance which generated enough buzz to land her a spot as the #1 trending topic on Twitter. For the past few years, she has travelled throughout the U.S. and overseas performing and solidifying her international presence and fan base—a legion of "Jasminators" which extends from Mexico to the Philippines.
Complementing her musical success, Villegas has done guest appearances on shows like That's So Raven and The Suite Life of Zach and Cody and print ads for American Girl, Levi's and Girl Scouts. She has also partnered with Microsoft to release the first ever HTML5 Interactive Music Video; with Cover Girl to shoot a "Paint A Smile" video; and with Pepsi to release the song and video "Now Is The Time." Making waves in the Latino market, she was named one of Latina Magazine's 25 Most Beautiful Stars 2012 and appeared on their cover in February 2014, and recently participated in promotional appearances connected to Macy's celebration of Hispanic Heritage Month.
This whirlwind of activity has generated a firestorm on social media. In 2012 she was listed as the #3 Most Powerful Woman on Twitter and the #1 Top Twitter User in Los Angeles by TweetGrader.com; Klout.com also designated her as the Twitter's #8 Most Powerful Artist. Villegas She currently has over 1.67 million Twitter followers. Her Facebook "likes" have exceeded 893,000, and she now has more than 563,000 Instagram followers.
For all of that notoriety leading up to her bona fide rollout as a recording artist, Villegas is most excited now about the opportunity to share her unique take on the world and mix of pop/R&B with larger audiences getting wind of her for the first time, while continuing to be a role model to her growing legion of female fans. "I want my songs to give voice to young girls, like a journal of feelings that they can relate to," she says. "I want to be open and honest with them in my live shows as well, making them feel like they're part of the show rather than just sitting and watching me do my thing. My favorite part of being a performer is making that connection, talking to them like friends and singing my songs along with them. When they're singing the chorus of the songs louder than I am, I know I've touched them in a special way.
"Even though I didn't have a record deal for a few years, the recording process has never really stopped for me," Villegas adds. "Now I'm grateful that things didn't work out when I was 16 because the music I'm doing now is so much more meaningful and reflective of the real me than the material I was recording back then. Because so many things were happening all the time, I had to be home schooled, so I didn't have friends like kids who went to public school and didn't go to the prom. I kept wondering if it was all worth the sacrifices. Now looking back, I wouldn't have it any other way and am grateful for every choice I made. I feel like my ability to adapt and stay current while trusting my heart will keep me relevant in this business for a long time."
To check out Jasmine Villegas' music in the iTunes store, please click this link Jasmine Villegas iTunes.
Jonathan Widran is a free-lance music/entertainment journalist who contributes regularly to Music Connection, Jazziz and All Music Guide. He can be reached at Few522@aol.com. He is also on Google+

Comments