Detroit-based R&B Singer John Brown Signs With Universal Republic Records, Readies Debut Album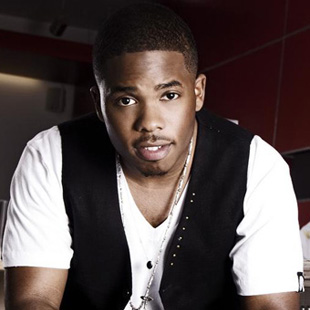 Rising R&B singer & writer John Brown may have a name which is fairly common, but he's emerging as a very unique and promising artist. Based in part on the early, regional success of his single "Imma Love You Right," Brown has now signed a label deal with Universal Records, and he's currently recording his debut album with several hit writers & producers.
Born and raised in Detroit, Michigan, Brown was the youngest of five siblings. His gospel roots were honed in the choir while singing in his father's church every Sunday. His mother – who at the age of 17 had her own deal with Motown Records – would play hours of classical music in the house, "basically to calm us down," Brown recalls.
In middle school, Brown joined a local youth theater group, which nurtured his vocal and acting skills and granted him the opportunity to sing the National Anthem at Pistons and Lions games. In fact, on five different occasions he was chosen to perform for President Bill Clinton.
Brown competed in numerous talent shows in high school and won them all. After forming the singing group E2G with Robert Curry (now of Day 26 fame) they auditioned for Wyclef Jean. The producer/musician signed the group to his Clef Records/J Records. However, a year later, the group disbanded, citing "creative differences."
"Clef had a vision for the group that didn't really suit us," says Brown. "It was definitely a friendly split though. Clef actually wanted to keep me on as a solo artist, but I wanted to finish high school and he respected that."
After graduation in 2004 from Linden High School in New Jersey, Brown enrolled at Grambling State University on a full academic choir scholarship. After transferring from Grambling, he spent the next four years "constantly searching for a program that had high standards," performing and recording music.
However Brown was still restless for his own recording deal, so he posted an ad on MySpace. "I'd posted an ad on MySpace looking for management and producers and two weeks later, this random guy reaches out and says he knows some people who could help me. I was suspicious at first because people say that kind of stuff all the time, but something told me to take him seriously."
When Brown decided to meet with "this random guy" known only as Rico he was shocked. "He looked disheveled… like a homeless person!" states Brown. "I said to myself, I'm not going anywhere with him." However Rico convinced Brown that he indeed had the music connections Brown was looking for so he followed Rico to a coffee shop, where Phillip Ragan, a successful Detroit-based entertainment attorney, was waiting.  Impressed by the singer's talent and background, Ragan signed Brown to his Mophilin Entertainment label.
Within weeks, Brown was in Atlanta, Georgia where he recorded "Imma Love You Right." The song became a radio hit in Detroit, piquing the interest of numerous record labels. John eventually signed with Universal Republic, only six months after that fateful coffee shop meeting. "This just goes to show you that you can't judge a book by its cover," states Brown with a chuckle, as he remembers how he almost nixed the meeting with Ragan because "Rico looked like a homeless person."
Although Brown loves singing rock, classical, hip hop, gospel and pop, his favorite style of music is R&B. He considers himself a real singer and not one that has to use AutoTune to get his bangin' grooves and heartfelt emotions across to his fans. Along with his A-Team at Universal Republic, John is hoping that his success with "Imma Love You Right" holds true for his upcoming album that they've designed to showcase John's amazing voice. The album features some of today's hottest producers, songwriters and hitmakers including Bei Major (Ne-Yo, Trey Songz, Chrisette Michelle) and Larry "Detroit" Nix (Jagged Edge, Heather Headley, Lil' Jon, R. Kelly), The Council, Rodney Jerkins, and Young Yanni.
The first single from his upcoming album on Universal Republic was "Imma Love You Right." Produced by Bei Major and Larry "Detroit" Nix and written by The Council, the song describes the many ways John will love a woman – with his eyes, his hands, his voice and his time – as his silky tenor glides over the midtempo rhythm.
When asked who he had in mind when he was singing this song, Brown said, "I got tired of hearing how the ladies were being dogged around, so I decided to drop this single and tell them what I was feeling and what I'd do to make it right."
While Brown's sensual tenor voice on "Imma Love You Right" brings on the intimacy and romantic feelings for any lady whose love has gone wrong, there's no lack of club joints on the still untitled album. "In My Club," written by Young Yanni (Trey Songz), has a knockin' beat and is among the potential 13 songs that will make the cut. "I wanted to make a fun record that described a scenario everyone can relate to," says John. "It's feel-good music."
When asked who were among the people who influenced his singing, Brown acknowledges James Brown, Michael Jackson, and Jimi Hendrix with heartfelt respect. "You've got to stay focused and keep going, no matter what. You've got to believe in yourself because if you don't, no one else will. That is my advice to anyone who wants to make singing their career," he adds.
With a hit single featuring his powerful vocals being played on the radio, a hot video, and a new album in the works for Universal Republic, John Brown is feeling positive and confident about his success.
"From the time I was a kid, I've had my eyes set on winning – not losing. I'm not the guy who does a lot of random stuff. I've always stayed on a positive path so I can have longevity. Nothing takes me off focus. I'm determined to make it."
Paula Edelstein is an award-winning music journalist and author. She contributes to All Music.com, Sounds of Timeless Jazz.com, and Suite101.com. She can be reached at paula.edelstein@att.net. She is also on Google+
Comments