Singer/Actress JoJo Discusses Her Album The High Road, and Hit "Too Little Too Late" (2006 Interview)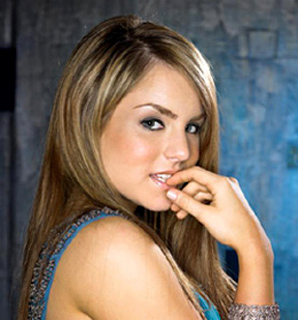 Singing & acting star JoJo is still just 15, but she has already accomplished much in her young career. At age 12 she released her debut album JoJo, which went platinum and contained the hits "Leave (Get Out)" and "Baby It's You." Then she starred in two major movies, Aquamarine and RV. And now JoJo has another big hit on the charts with "Too Little Too Late," and she's about to release her second album, The High Road, on Blackground/Universal Records.
JoJo (born Joanna Levesque) seems to epitomize the new generation of teen pop star, who can smoothly transition from music to films and then back to music, while legitimately demonstrating her skills in both fields. She is setting the bar high for other talented young performers, who know that success in one field may open the door for success in another.
But right now with JoJo, she is focused on just one thing – her music career. She is holding off on acting roles, to promote her new album and then tour. In a new interview, JoJo talked about the making of The High Road, and how she worked with such top songwriters & producers as Billy Steinberg, Scott Storch, Jermaine Dupri, Diane Warren, Soulshock & Karlin, and Timbaland. She discussed how she recorded over 30 songs for the album, before deciding on the 12 songs which made the CD. Notably, JoJo also co-wrote or wrote two of the songs for The High Road (writing "I Can Take You There" by herself), and she said she looks forward to writing a greater number of songs on future albums.
"It's been three years since my last album," said JoJo. "I recorded my first album when I was 12, and now I'm 15. From age 12 to age 15 is a big jump in a young girl's life. I think with the new album, you can hear the maturity and confidence in my vocals. I'm coming into myself and being more comfortable. All of the songs on the album came out well – the music style is mostly urban like the my first album, but there are some rock elements too."
JoJo began working on the new album in August 2005. "I had finished promoting my first album, then I went to Australia to film Aquamarine," she recalled. "It was a busy time – while I was in Australia, I auditioned via satellite for RV. When I finished with Aquamarine, I came home and started working on the new album. It was mainly recorded in New York, Miami and L.A. We recorded over 30 songs with a lot of different people."
When asked if she thought it was necessary to record that many songs, she said, "I feel that doing 30 songs was fine for the album. Some people would say that's too many to do, and it's costly to record that many songs. But Chris Brown recorded 50 songs for his album, and then he whittled it down and made a great record. When you record a lot of songs, you come up with different styles and ideas."
Certainly a key song on the album is the hit single "Too Little Too Late," which has already reached #3 on the Billboard Hot 100 chart. It was written by the team of Billy Steinberg & Josh Alexander, who are based in Los Angeles. Steinberg is renowned for co-writing such classics as "Like A Virgin," "True Colors" and "Eternal Flame." "Too Little Too Late" was produced by Steinberg, Alexander and Vincent Herbert, who is the album's executive producer, and he is also the exec who signed JoJo to her label deal.
"I loved 'Too Little Too Late' from the moment I heard it," said JoJo. "People can identify with the lyric. Many of my friends have told me how much they relate to the lyric story (about a girl who breaks up with her boyfriend, knowing that his last-minute pleas to get back together are too little and too late). I also love the guitar in the song."
JoJo also co-wrote a song with Steinberg & Alexander called "How To Touch A Girl," which is one of her favorites on the album. "I was in Los Angeles, and we went to Josh Alexander's apartment to write. They already had this song title. At first I thought 'How To Touch A Girl' seemed a bit too provocative a title. But the lyric we wrote is actually about how to treat a girl, how to touch a girl's heart."
In addition, JoJo worked with several other, very notable writers. 'I was very excited to get together with Diane Warren," she said. "I love Diane – she's one of my favorite people. We recorded four or five songs together, two of which made the album, 'Exceptional' and 'Note To God.' She's so cool."
JoJo also reunited in the studio with the writing/producing duo, Soulshock & Karlin, who had written her previous hit, "Leave (Get Out)." Soulshock & Karlin are known for creating hits for Whitney Houston and Monica, and they wrote & produced two songs for JoJo's album, "Coming For You" and "Good Ol'." JoJo also recorded songs with top writer/producers Scott Storch, Jermaine Dupri, Timbaland and Ryan Leslie.
With her album The High Road set for release on October 17, JoJo is definitely focused on promoting her album now. However, she does plan on acting in more films later on. "Right now with my album coming out, my heart is in my music," she affirmed. "I want to focus on my album, on promotion and touring, and not think of movies yet. I'm going to wait a year to do another movie. I will say that I have been reading some awesome scripts, but I haven't signed on to do another film yet."
Lastly, when asked what advice she would give to young singers and actors who are trying to make it, and whether they should do both singing and acting, she said: "I do think if you have success in one field that you can parlay it into the other field. But it should be organic. If you can't sing but are a great actor, that you shouldn't do both. Your heart should be in whatever you're doing, whether it be singing or acting, or doing both. For singers who are trying to make it, sing for anyone who will listen and try not to be shy. You never know which person might know somebody who can help your career. Sing for anyone, because if you're good, word will get around."
Comments