Rising R&B Group KING Discuss Their Album, We Are KING, And Their Grammy Nomination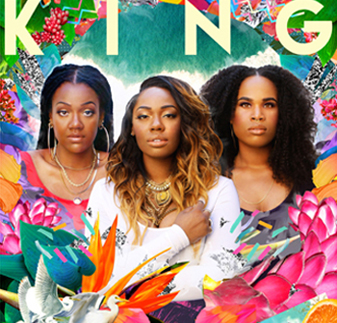 Driven by a transcendent dream pop/R&B vibe that reflects their personal friendship and unique creative and harmonic synergy, We Are KING—the acclaimed 2016 full-length debut by twins Paris & Amber Strother and "musical sister" Anita Bias—is setting standards for DIY and independent artists everywhere. Their recent Grammy nomination for Best Urban Contemporary Album marks a historical breakthrough, with KING being the only independent artist in the coveted category, going up against Beyonce, Rihanna, Gallant and Anderson Paak. We Are KING is also the first album in the category with no outside feature artists, and the only self-produced project.
Released on their own label, KING Creative, the album received instant buzz upon its release, debuting at #1 on Billboard's Heatseekers Albums and in the Top 10 on Billboard's Independent Albums and R&B Albums chart. It also made numerous 2016 Year End and Mid-Year lists for Top Albums and Top Songs everywhere from Rolling Stone, Time, NPR, Billboard and The Guardian, among many others. In addition to widespread U.S. touring, KING has performed in the U.K., Germany, Japan, Sweden, Norway, Iceland, The Netherlands and other countries.
In addition to their own headlining tours and opening performances for Me'Shell Ndegeocello, Erykah Badu (a prominent early supporter) and other artists, the trio has been tapped by a wide array of artists for some high profile collaborations. These include working with Adam Lambert and Nile Rodgers on Avicii's "Lay Me Down," The Foreign Exchange's "All The Kisses," Bilal's "Right At The Core" and on Robert Glasper's 2012 Grammy-winning album Black Radio, which featured KING's collaboration "More Love." In 2016, KING contributed to five tracks on Corinne Bailey Rae's critically-acclaimed release The Heart Speaks in Whispers, including co-producing and performing on her single "Green Aphrodisiac."
"I think people are responding to our authenticity and the way our personalities reflect the joy of the music we make," says Paris, who produces all of KING's music while Amber and Anita share vocals. "Our fans are drawn not only to the sincerity of the songs, but also to the fun we have when we make music together. It's an amazing process bringing a song from birth to something everyone can enjoy, and we love sharing that."
Amber echoes her sister's enthusiasm: "The live performances blow my mind. It's so unreal starting a song from scratch in Paris' bedroom studio and seeing what it can become and how it can inspire people. When we released our first EP The Story in 2011, we wondered just what our live show would be, and now, all of a sudden, for fans around the world to be enjoying the live aspect of three women creating music as a self-contained unit, it's incredible." Anita adds, "It's all been an eye-opening journey. Seeing the audiences dancing is such a cool feeling."
A key influence behind KING's determination to make all the magic happen themselves was their late, legendary mentor Prince—who played a prominent role in their rise to industry and public renown. After the release of their debut EP The Story and their early videos, word about the trio spread virally via such artists and tastemakers as Questlove, Erykah Badu, Gilles Peterson, Nile Rodgers, Miguel, Solanga and Jill Scott, among others. Within a month of its release, the video for "The Story" had over 40,000 views and KING had countless fans, including Prince, who tapped Paris, Amber and Anita to open for and perform alongside him during his run at The Forum in Los Angeles. Prince continued to mentor the trio over the years throughout the recording of their album, imparting the importance of ownership and encouraging them to "do it yourselves and do it your way."

Here's the video of KING's song, "In The Meantime"
Although much of the early press on KING was Prince-centric for obvious reasons, KING's ability to achieve so much as a DIY group became the focal point once they released We Are KING. Still, his mentorship was a crucial element in their rise. He gave them advice and directives on the industry. A champion of independent artists, he told them to keep the rights to their intellectual property. He stressed the importance of being themselves, and said he wanted to emancipate us from the pressure an artist usually receives when they're trying to figure themselves out. The girls shared their demos and their final mixes before the release of the album. The way he enjoyed their songs made them excited about releasing them—and they're grateful he was alive to smile on their success when the album was first released.
"A lot of his encouragement was based on that concept of independence, and the importance of staying true to ourselves," Paris says. "Authenticity was important to him, and he stressed the importance of never changing that for anyone. He told us from his own experiences the path that would be best—putting things out on our own, remaining faithful to our vision. We found that liberating, and we are now continuing to put out music that we ourselves would want to listen to all the time, the music of our own imaginations."
Nearly six years after the release of their debut EP, the trio holds firmly to their early aesthetic of being an organic self-contained unit. Beyond writing and producing the music, KING has held steadfast in their conviction of doing things themselves on the business side as well. In addition to launching their own successful globally distributed label and retaining ownership of their own masters, they also stepped into curatorial roles by collaborating with a series of top visual artists to produce music videos for their tracks "The Greatest," "Carry On," "Native Land" and "In The Meantime." Paris, a huge Disney fan who has studied the art of scoring to visuals, found a deep comfort in shaping KING's tracks around feelings and moods inspired by different visuals. The trio in turn were determined to create videos with imagery that matches the transformative nature of their music.
"It's been an amazing journey to work with my musical compadres, start our own label, assemble promotional and creative teams ourselves and know that all we have done has led to an enthusiastic international following," says Paris. "We want to be an inspiration to all those artists who wonder if they can do it all themselves, and let them know that yes, if you follow your heart and stay independent, exciting things can happen."
Jonathan Widran is a free-lance music/entertainment journalist who contributes regularly to Music Connection, Jazziz and All Music Guide. He can be reached at Few522@aol.com. He is also on Google+
Comments