Hit R&B/Pop Singer/Writer Lloyd Talks About His Third Album, Lessons In Love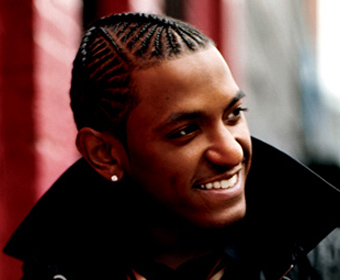 Among the many tattoos R&B singer/writer Lloyd has on his art-filled body, he's most enamored with the two guardian angels running up his left arm and strapping over his shoulder. The male angel with a mohawk is clearly in love with the Betty Boop-like female playing the harp. Together, he says, they make sweet music and have sent big-time career blessings his way since "Southside," the duet with Ashanti that was the title track from his 2004 debut album, broke through to hit success on both the Billboard Hot 100 and R&B/Hip-Hop charts. Lloyd keeps his longtime tradition of top collaborations going this year, teaming up with Ludacris and Lil Wayne on the first two singles from his latest album Lessons In Love, which is due to drop from The Inc./Universal Motown Records in August.
In its first week out in March, the Ludacris cut "How We Do It," was among the most added at urban radio. Its follow-up "Girls Around The World" with Lil Wayne – which includes samples and lyrics from Eric B. & Rakim's "Paid in Full" – was released in June and rose quickly up the R&B/Hip-Hop chart. In 2007, Lloyd and Lil Wayne set the pace for future triumphs with their massive hit "You" (from Lloyd's sophomore album Street Love), which became Lloyd's first Top 10 hit on the pop chart (peaking at #9) while topping R&B/Hip Hop chart. Lloyd's follow-up single "Get It Shawty," hit the Top 5 on both charts. Another future potential hit single "Lose Control," which dares the ladies to let go of their inhibitions and embrace their wild sides, has Lloyd vibing with Nelly.
While inviting top artists and producers to participate on his own joints, the 22-year-old, Atlanta-based Lloyd (real name: Lloyd Polite, Jr.) has also racked up an impressive resume, adding his vocals as a guest artist on nearly 50 tracks by some of hip-hop's biggest names, including Ashanti, Young Jeezy, Ja Rule, Fabolous, Rick Ross, Chamillionaire and of course, Lil Wayne. "The connections I have with all of these great artists really goes beyond the music," says Lloyd. "I really vibe well with them as people in addition to the chemistry we share as artists. A strong collaboration in the studio always begins with a dear friendship. When I get together with other writers and producers, sometimes it's not about getting to work right away. Sometimes, we just talk and laugh for a while and discuss current events to get rolling. My first feature on another artist's recording was 'Forever' by 8Ball and MJG, and everything developed from there, as we all cross lines from being fans of these artists to working with them.
"Then the stars started aligning for me," he adds, "and I was able to work with Jeezy and Rick Ross, who opened the doors of hip-hop to me after some big disappointments when Magic Johnson's label MJM which signed me folded and further back, when Dreamworks dropped N-Toon, the boy band I was in when I was 11. It's all just about finding the right vibe with the people you collaborate with, more about feeling and energy than anything else."
"Lessons In Love is shaping up to be a true take-off moment, confirming the depth and breadth of Lloyd's vocal abilities and striking the same diverse and balanced mix of club tracks and sensual ballads as his gold-selling breakthrough album, Street Love. Taking more control over his career, the singer took the role of executive producer on both projects, which were created under the direction of his production company, Young Goldie Music. Beyond the featured household hip-hop names and the contributions of Baby Boy & Superkidd and J. Lack, Lloyd chose some of today's top behind the boards forces to helm individual cuts: Tricky and Dream (Mary J. Blige, J. Holiday, Rihanna); Polow Da Don (Usher, Nelly, Fergie); Jasper and Big Reese (Mario, Mariah Carey); Eric Hudson (Kanye West) and four-time Grammy winner Bryan-Michael Cox (Mariah Carey, Mary J. Blige, Usher).
"When it's time to start a new project, I sit down with my committee of intimates, which I like to call my senate, and start to discuss the angles and the best writers and producers to bring in," says Lloyd. "We sit at a round table and collectively decide not only who will be best for each song but also the concept for the album as a whole. In the case of Lessons of Love, the overall theme is not only uplifting women but educating people on issues pertaining to love and the difference between physical lust and the real deal. There are a lot of young adults my age who mistakenly think sex and love are the same things, so I wanted to bring more clarity to those issues which are critical to my generation. People's ears always perk up when you sing about sex and intimacy, so the key is to show those folks how good it feels to actually be in love and be unselfish about it."
As for choosing his collaborators, Lloyd adds, "Ludacris is of course a shining star from my hometown of Atlanta who always wanted me to work with him, and we made 'How We Do It' kind of comical and fun. It's always about incorporating someone who will complement the overall feeling of the song. I'm pretty much about connecting the dots, bringing a wide range of talent together in one room to see what we can come up with. A lot of artists who do what I do like handing the reins to the producers and letting them shape everything around them, but these past two albums I've been very involved with writing and arranging the music. I've enjoyed stepping outside my shell and doing production for the first time. Now that I'm 22 I can write and sing about mature topics that I couldn't have experienced in real life when I was a teenager. Along the way, I beat myself up a lot to get things just right, but I'm totally confident in the final outcome."
Growing up in Atlanta, Lloyd – whose father died violently when he was only two – was often a surrogate parent to his two half brothers and two half sisters when their single mom was busy at work as a pharmacist. For him, increasing fame has led to opportunities to participate in numerous charitable endeavors, and naturally he gravitates towards those revolving around children without dads. He gave back to his original hometown of New Orleans by taking part in rapper David Banner's 2006 Heal The World concert benefiting displaced Katrina victims; Lloyd experienced this on a more personal level because many of his relatives came to live with him in Atlanta, sleeping on air mattresses in his two-bedroom apartment, after the hurricane. He donated 50 tickets for the show to children from Usher's New Look Foundation, which helps create avenues for young people to enter the business side of sports and entertainment. Lloyd also travels to speak to kids across the country with producer and musical mentor Dallas Austin in support of his fellow Atlantan's new project that builds recording studios in area public schools.
"I'm always telling the kids, don't be afraid to let your light shine and be persistent in your passion…just get out and do your thing," he says. "Because I know from experience, there's nothing better than being able to do what you love every day, having faith in God and keeping a positive outlook on things. The other key to finding success in this world is giving people more than they expect from you. Push a little further, try to find out what is out there for you. If you want to have a career in the music industry, educate yourself. Don't do things for the wrong reasons. If you really love it, go for it – don't do it for the money, the girls, the fame or because someone else did it and you want to copy him or her. Do it because you're into it. Then find your own voice, be creative and be an individual. Find a sound that's one of a kind and perfect it. So far, that's been the approach that's helped me realize my dreams, but this is just the start. There are still so many more out there for me to discover. Starting now…"
Jonathan Widran is a free-lance music/entertainment journalist who contributes regularly to Music Connection, Jazziz and All Music Guide. He can be reached at Few522@aol.com. He is also on Google+

Comments