R&B/Pop Star Mario Talks About His Album, Go, And Hit "How Do I Breathe"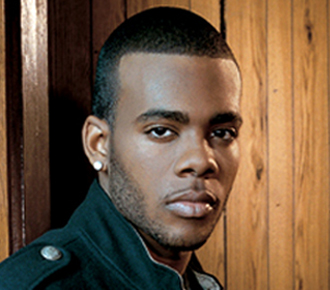 On November 28 (2007), exactly a year after it was originally set to be released, Go, the highly-anticipated follow up to R&B singer Mario's 2004 platinum-selling Turning Point, was released. "How Do I Breathe," the first single from Go produced by hit-making production team Stargate, was released back in May and became a Top 20 R&B Singles hit. And now Mario has released the follow-up single, "Crying Out For Me."
The 21-year-old Grammy-nominated performer was offered his first record deal with Clive Davis' J Records at 14, and began recording his self-titled debut shortly after blowing away the crowd at Davis' 2002 Grammy party with his rendition of Stevie Wonder's "You and I." Sparked by the Top 5 pop hit "Just A Friend 2002," Mario sold over 700,000 units, setting the stage for the strong release of Turning Point.
This album lived up to its title, putting Mario (whose last name is Barrett) on the global music map with over two million in sales worldwide and the hit single "Let Me Love You," which was #1 for nine consecutive weeks. The single also holds the honor of being one of the best-selling ringtones to date with 1.6 million downloads, and Mario himself received numerous accolades, including Billboard awards and nominations from the Grammys, BET Awards, and Soul Train Music Awards.
Aside from enjoying the success of Go's two lead singles, Mario used the time between the original release date and its upcoming official drop to get the album just right. "The reason for the pushbacks was that it wasn't quite done," he says, "and as time went by, it got better and better to the point where we were replacing songs we originally liked with others that were even more amazing. Everything's a collaborative process between myself, my management and J Records, and it was great having this kind of luxury to keep evaluating the best way for me to present myself in 2007. I find that I'm now able to express myself more and I have the time by myself instead of everybody always being in my ear. When you have time by yourself, you can see and analyze things for what you think they are. As you grow, you learn more about yourself and come upon things that touch people. I love to see people touched by music. I love to see people touched by my growth."
From changing management two years ago and relocating for several years back to his hometown of Baltimore to further exploring his sensuality and sexuality, Mario at 21 is ready to unveil sides of himself that he wouldn't have dared just a few years ago. There will be a Parental Advisory sticker on Go due to some adult lyrics that are a natural outgrowth of his becoming bolder in the way he expresses himself creatively. He's also stepping out as a songwriter and producer as part of Knightwritaz, which includes Sterling Simms. Aside from producing the tracks "Why," "Kryptonite" and "Ghetto Love" on Go, the unit has also helmed songs for Jennifer Lopez, Chris Brown and Raven-Symone.
"When you're 18 or 19 and you sing how I love you," Mario says, "it's kind of safe, like does he really know what he's singing about? And when I was 16, I just couldn't sing about certain things because I wasn't experiencing them in my life. But now I have the chance to show people that I'm an expressive adult artist. The experiences I've had the past few years influence the kinds of things I can write and perform. During this period, I had a long-term relationship and a lot of the songs on Go are a testament to things in that romance. On the title track, I'm singing about spending time with a girl while other guys are feeding women lines to get them interested. And 'Kryptonite' is about me wanting to be Superman to my Lois Lane yet having temptations."
"But there are other relationships I sing about as well," he adds. "'Do Right' touches on my friendship with my mother. I'm a family-oriented guy and always say that charity starts at home. Coming up, some family and friends weren't on the right path. In some cases, wrong turns can be overlooked but I had to look at them for what they were."
On Turning Point, Mario worked with top producers Scott Storch, Ron Feemster, the Underdogs and Harold Lilly. To get just the right mix of vibes on Go, the singer worked with a much larger cast from track to track. A partial list of top names includes Jermaine Dupri, the Neptunes, Bryan-Michael Cox, Jimmy Jam & Terry Lewis, Stargate, Akon, Rich Harrison, Krucial Keys, The Underdogs, Eric West, Polow Da Dan, Timbaland, King Logan and Dre & Vidal. In addition, T-Wayne and Stee help Mario take it back about 20 years for a remake of Keith Sweat's R&B classic "Right And A Wrong Way." The album also features guest appearances by Bow Wow, Rich Boy and Juelz Santana.
"I thought it was cool that my own production crew Knightwritaz did some records on the album, alongside tracks from all these great outside producers," says Mario. "It's like I'm being competitive on my own project! Working with different producers, you can learn so much from them as to what people like and how to best get across your deepest feelings in a song. Everyone on Go brings a different energy to the mix, and that's what making a great record is all about, how well you vibe with someone, how strongly you communicate with them."
Between albums, Mario began expanding his creative palette into acting on the big screen. He starred first in the 2006 dance-themed film Step Up, which grossed over $21 million during its opening weekend in August of that year. Last January, he appeared in the powerful Hillary Swank drama Freedom Writers as an inner-city student at risk. Mario, who has never taken formal acting lessons, has mentioned that he would eventually like to launch is own film production company and become a director.
"I've noticed a big difference between being a recording artist and being a supporting actor in a major motion picture," he says. "When you're an artist, you can be selfish and put in as much personal time as you want to come out with new concepts that you can express in the studio on the record company's time. In films, you don't have that luxury. You have to be 100% so that your co-stars can be at their best, and you're taking a lot more direction from everybody. In both cases, though, you're taking something that someone has written and using your talents to make it sound good. It's also important that in both capacities I am confident in who I am and believable to the audience that is watching or listening."
Jonathan Widran is a free-lance music/entertainment journalist who contributes regularly to Music Connection, Jazziz and All Music Guide. He can be reached at Few522@aol.com. He is also on Google+

Comments