Hit R&B/Pop Artist Monica Stars On Reality TV Special and Records Album, Still Standing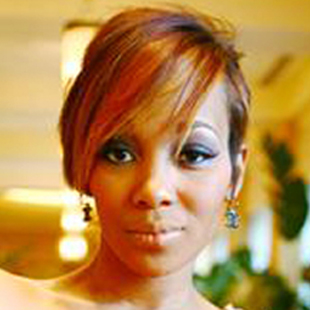 Gearing up for the fall release of her new album Still Standing, the R&B singing star recently invited her fans into the exciting and sometimes crazy world of hitmaking on The Single: Monica, a one-hour reality TV special that premiered exclusively on Atlanta's Peachtree TV (formerly WTBS) on August 5. The show, which followed Monica as she poured her hit-minded heart into delivering a smash single to lead the project, was the first installment in what is planned to be an original unscripted series about musical comebacks, with additional episodes being developed that will feature a variety of popular artists.
The Single: Monica chronicles the 27-year-old Grammy award-winning, multi-platinum Atlanta-based artist through the trials, tribulations and creative breakthroughs of sessions with rapper Ludacris (her cousin-in-law) and top genre producers Stargate, Dallas Austin and Bryan-Michael Cox; Cox previously collaborated with Monica on her albums All Eyez On Me (2002), the gold-selling After The Storm (2003) and The Makings Of Me (2006). While the special was designed to track the process of creating a hit song from conception to recording to release, Monica says that the show ended as a cliffhanger because she and her collaborators couldn't agree on the right song by the time the producers of the show needed to wrap shooting.
"That's true reality TV," she laughs, "where there's no neat happy endings, because sometimes the journey of making a record takes a lot of time, trial and error. What's funny is when Ryan Glover, one of the execs at Peachtree came to me with the idea for the show by producer James Dubose, who I've known since I was 12, I wasn't sure because the premise didn't seem all that dramatic and TV needs that kind of thing to be interesting. Once I agreed, my only issue was that it come off as sincere and honest to what really happens when we're making music. And it did, which was cool. You see me out there, trying to find the right song and best writers to vibe with and finding those who really understood the album as a whole.
"I did most of the album with Bryan," she adds, "so it made sense to focus a lot on him. But there's that other side too, because he likes to just hang out and chill sometimes and I get frustrated with waiting for us to get to work. The track I did with Stargate is called 'Call Me A Taxi' and Bryan and I worked on 'Still Standing' which Ludacris and I co-wrote. The album was going to be called 'Lessons Learned' but then he and I did this song that spoke volumes about where I am in my life now and suddenly 'Still Standing' became the official title!"
Monica was slightly disappointed that she couldn't schedule her sessions with Missy Elliot during the time of the shoot; Monica and Elliot were set to get together in mid-August to work on some final tracks for the album. But the singer appreciated the fact that the show went behind the scenes to show her at home with her husband, rapper Rodney "Rocko" Hill and their two sons, 3-year-old Rodney and six-month-old Romello. When she went to New York to work in the studio with Stargate, the boys were off at FAO Schwarz with her best friend.
"I don't always want the media to see that my kids travel with me when I'm working and performing," she says, "but the absolute best part of everything I do is that my children are always with me. They bring back that innocent pure love to me, and nothing about this business seems like a hardship when they're around. Every morning, they wake up with smiles and their love motivates me to do the best I can in everything. There was no way I was going to do this show without them being a part of it, because that's what my real life is about."
Considering the success of The Makings Of Me, which reached #8 on the Billboard 200, it may seem odd that in the video promo for the show on the Peachtree TV website, the announcer declares: "One artist, one song, one last chance to be #1!" But in actuality, Monica hasn't hit #1 on the Billboard Hot 100 since "Angel Of Mine" in 1998 and hasn't reached the top spot with any single since "So Gone" had the pole position on the Hot R&B/Hip-Hop Songs chart in 2003. The idea behind The Single: Monica is to return her to her teenage glory days when her first two triple platinum selling albums Miz Thang (1995) and The Boy Is Mine (1998) spawned three #1s on the Billboard Hot 100 ("The Boy Is Mine" with Brandy, "The First Night" and "Angel of Mine") and four consecutive #1s on the Hot R&B/Hip-Hop songs chart (including "Don't Take It Personal (Just One of Dem Days)" and "Before You Walk Out Of My Life/Like This And Like That."
Monica's original album title Lessons Learned stemmed from the mistakes she feels she made in 2006 with the snap R&B song "Everytime tha Beat Drop," which was released as the lead single from The Makings of Me. While the Jermaine Dupri-produced track neared the Top 10 on the Hot R&B/Hip-Hop Songs chart, it reached only #48 on the Hot 100, making it her least successful single since 2002. Subsequent singles from the album didn't catch on, and the singer later admitted that she should have been more involved in creating a new strategy. Instead of allowing her label to influence the selection of her singles, she said she should have asked her fans their opinions and released several singles at once.
"The whole experience taught me that consumers are choosey, and they don't just buy records because they like the artist," she says. "You've got to give them a great song they can connect with and that first single didn't represent the R&B/soul vibe I was putting out on the rest of the album. The label chose it because it had a beat drop and the whole snap thing was happening in Atlanta. So I learned that to succeed you have to put out your best work first even if trends say do something else. The whole idea behind the new album was to recover from that experience, not try to over-conceptualize and get back to the place I was in '94 and '95 when I was young and fresh and just recorded what felt right to me rather than worry about what was going on around me. In those days, I worked with some producers people never heard of and I did it again this time. It's all about making music that's true to who I am."
Monica adds, "This approach is actually taking my own advice because I'm always telling aspiring artists that they should never change their path unless they want to. If secular music is popular and you sing Christian, do that. Do what you believe in and your time will come around. I once met this girl who sang country but she was told because of her look, she should do R&B instead. I told her to stick to her guns. It may be a longer process towards finding success, but when you get there, it's more enjoyable if you've done it your own way. The music industry's always going to try to mold artists, but real artists do what they love first. The other thing that's crucial these days is being your own best promotional tool. Even if you have to use your own digital camera and some basic home equipment, get those videos out there and record samples of your music and pass it out to the masses."
Jonathan Widran is a free-lance music/entertainment journalist who contributes regularly to Music Connection, Jazziz and All Music Guide. He can be reached at Few522@aol.com. He is also on Google+

Comments