MUSIC STORE
Welcome to the SingerUniverse Music Store. We are pleased to sell the best, music business resource books, which will help you connect with the top record labels, record producers, agents and attorneys. We also sell top, vocal instruction products, to help improve and strengthen your singing voice. Here are the different product categories; you can click a link to directly view the specific products in each category.
Music Registry Directories
Music Business Registry publishes the best-selling, most comprehensive directories of top industry executives. These directories provide detailed, up-to-date contact information on all of the A&R Executives, Music Publishing Executives, Film & Television Executives & Music Supervisors, and Music Business Attorneys & Business Affairs Executives.
Pollstar Directory Books
Pollstar publishes several, best'selling, comprehensive directories which contain valuable information and contacts. These directories provided detailed, current listings of all the top Record Label Executives, Booking Agents, Concert Promoters and Talent Buyers.
Here is a description of each of the Pollstar books: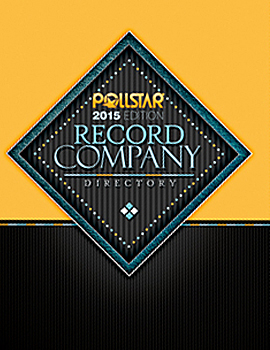 Record Company Directory
Price: $99.95 + Shipping Cost
(Note: there is a 9.25% sales tax added if you are a California resident.)
Format: Book
Description
This guide is indispensable to anyone accessing the complex recording industry. The listings for Major labels and Independent labels include detailed artist rosters, executive staff, personnel, direct phone numbers and fax numbers. The Record Company Rosters include Music Publishing info and contact information for Distribution Groups, complete with a helpful flow chart.
Major US Labels Staff Rosters with inside-line phone numbers, titles, divisions, mailing and e-mail addresses
Exclusive Detailed Artist Rosters for major labels and subsidiaries
Extensive Independent Label Listings with all contact information
Quick Reference Indexes for phone, fax, e-mail, web sites, artists and personnel
Major Label Distribution Groups with all contact information and flow charts
Expanded Music Publishers Listings with contact information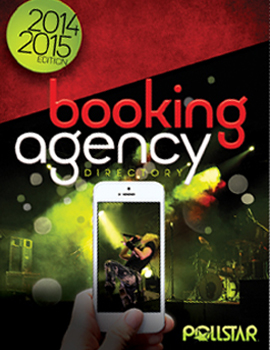 Booking Agency Directory
Price: $89.95 + Shipping Cost
(Note: there is a 9.25% sales tax added if you are a California resident.)
Format: Book
Description
An invaluable reference tool used daily by Talent Buyers and Venues from club to arena level, the Booking Agency Directory is updated biannually and provides data on more than 600 agencies representing over 10,000 artists worldwide. This directory has current international contact information that serious competitors in our global marketplace demand.
Detailed Artist and Agent Rosters for more than 600 booking agencies
Exclusive and Non-Exclusive agency representation notations
Easy Reference Index for every day use
Special Cross Index of booking agency personnel
Quick Reference Guide for phone, fax, email and web site addresses
Separate International booking agency rosters and index.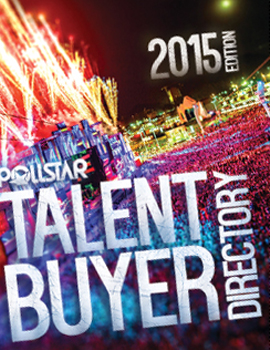 Talent Buyer Directory
Price: $89.95 + Shipping Cost
(Note: there is a 9.25% sales tax added if you are a California resident.)
Format: Book
Description
This directory lists every major concert promoter, nightclub, small venue, college, casino, festival, fair and theme park that books touring artists. This is an important book to have if you perform live or tour.
Festival and Fair Dates
Exclusive Executive Profile
College Enrollment Figures
Quick Reference Master Index
Personnel Cross Reference Index
Exclusive Venue Booking Notations
International Section Covering 67 Countries
Club Capacity and Music Format
Email addresses (where available)
Website addresses (where available)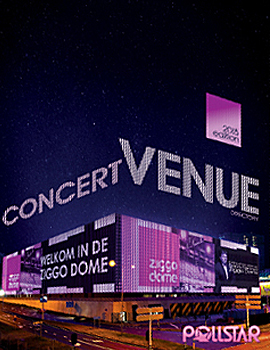 Concert Venue Directory
Price: $99.95 + Shipping Cost
(Note: there is a 9.25% sales tax added if you are a California resident.)
Format: Book
Description
Contact listings for every Major Concert Venue including Amphitheaters, Arenas, Stadiums, and Theaters throughout North America used by touring artists. Extensive and comprehensive, the Concert Venue Directory includes:
Contact names
Phone and fax numbers
Email addresses (where available)
Website addresses (where available)
Facility capacities
Rental and Box Office fees
and more
Vocal Instruction Products by Jeannie Deva
Here are four, excellent, vocal instruction products by respected vocal coach, Jeannie Deva.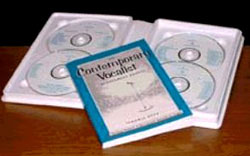 Jeannie Deva's Contemporary Vocalist Vol. 1 (instructional four-CD set & book)
Price: $$59.95 + Shipping Cost
Format: 4 CD Set and Book
Description
Good for Beginners or Pros - Go at your own pace.
This easy and inexpensive course contains techniques designed specifically for the kinds of sounds and demands that are particular to singing Popular Music from Rock to Rap, Folk to R&B, Broadway to Blues. Packaged in an attractive plastic "travel-friendly" binder, The Contemporary Vocalist by Jeannie Deva is a fully illustrated 174-page book and four vocal exercise CDs.
Contained in The Contemporary Vocalist Volume 1:
1A) Breath and Support: Jeannie Deva coaches you through the steps of four vital exercises that reveal to you the secrets of breath support and the success of this method.
1B) Developing Control: The second half of the first CD, you apply your new found method of breath support to vocal exercises. You will discover that this method gives you greater control and ease of singing.
2) Range and Control: Free your range as you relax and energize the natural and automatic functions of your voice. This CD limbers your vocal muscles giving you smoothness, flexibility and expansion of your useable range.
3) Tone and Power: This third CD focuses on volume, relaxed power, enhanced resonance and sustain. The exercises are arranged to warm-up your voice first and cool you down at end, while being fun, creative and freeing.
4) Working with Words: The final CD of this series consolidates your vocal advancement with correct use of vowels, consonants and words in general while singing. An understanding of how words affect your voice will give you freedom from the pit falls of over stressing consonants.
The CDs and book are interactive and never leave you wondering what to do next. Some of the book chapters include, "Natural Breathing, Freeing Your Natural Voice, Falsetto: Myth-Fear-Fact, How to Sing Hard and Avoid Vocal Blow -Out, Working on a Song" and much more.
Regardless of your current level of vocal ability, Jeannie Deva expertly guides you step-by-step through a process of vocal enhancement and discovery. She empowers you with the knowledge and tools that help you sing with confidence and control. Even if you are an experienced singer, it is recommended that you work with The Contemporary Vocalist Vol.1 before using The Contemporary Vocalist Vol. 2. This is because the method by which the exercises are done is more important than what notes or scales are sung. The method you use to practice the exercises in Vol. 2 is taught in Vol. 1 and you will get better results that way.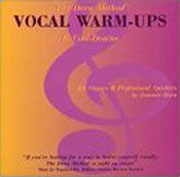 The Deva Method Vocal Warm-Ups and Cool-Downs (vocal practice CD)
Price: $$14.95 + Shipping Cost
Format: CD
Description
Singers should always warm-up their voice before a rehearsal or gig, But how? Here it is! Just pop this CD into your car stereo on the way to your gig or rehearsal and follow the instructions by respected vocal coach Jeannie Deva.
You will sail into the first song in your best form, with throat muscles relaxed and your voice feeling free and resonant! When you've completed singing, use this CD again for a voice saving cool-down.
How important are vocal warm-ups? Ask yourself this: Would a professional athlete ever enter a competition or game without warming up? Not likely, so why not be a professional and warm-up your vocal muscles before performing or rehearsal.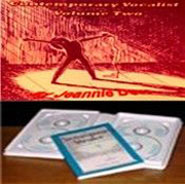 Jeannie Deva's Contemporary Vocalist Vol. 1 & Vol. 2 (complete, instructional nine-CD set)
Price: $$121.35 + Shipping Cost
Format: 9 CD Set plus Book
Description
Comprehensive, complete package. Contains 8-CD set (Vol. 1 & Vol. 2), the 174-page instructional book, and "The Deva Method Warm-Ups and Cool-Downs" CD, all for one price.
This is the complete package containing all of the Jeannie Deva, vocal instruction products. You will be receiving many months worth of vocal study and exercises for about the cost of two or three lessons with a teacher. Whether you are seasoned professional singer or a beginner, the Contemporary Vocalist will help you expand your range, improve tone and put more passion and confidence in your singing.
Newly released on CD, Volume Two contains incredible exercises to supplement Volume One and advance your voice to heights you have only imagined. For more detailed information about each volume, see their description in the Product section of our site. Don't miss out on this opportunity to expand your vocal horizons and receive the "Warm-Up and Cool-Downs" vocal practice CD as part of the package.
Indie Bible & Indie Venue Bible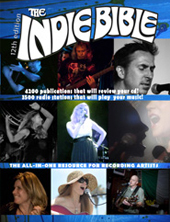 The Indie Bible
Price: $34.95 (PDF Format - No shipping cost)
Description
The Indie Bible is a respected, resource guide (now in PDF form only) which is edited by David Wimble. It is a valuable book for indie musicians, featuring massive listings of radio stations, music review publications, CD vendors/promoters, MP3 sites, and other resources. The Indie Bible shows you where to get your music reviewed, your songs played, and your CDs sold. The Indie Bible has 316 pages of valuable contacts and music-related articles.
The 9th Edition of the Indie Bible contains:
4200 publications worldwide for publicity
3400 radio stations worldwide for airplay
600 vendors and services to help sell your music
330 sites where you can upload your mp3 files
500 helpful resources and sites where you can promote your music
51 articles that will help your career to move forward
Listings include web, e-mail and physical address, as well as phone and fax numbers.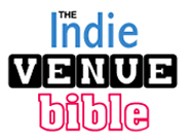 The Indie Venue Bible
Price: $24.95 (for each region)
Description
From the creators of The Indie Bible, comes The Indie Venue Bible - a unique, comprehensive directory of live music venues. It is in electronic (.pdf) format and lists 26,000 venues and 2000 booking agents in the U.S. and Canada. The listings are arranged by area, making it easier for you to route and plan your tour.
The Indie Venue Bible lists the obvious venues that you can find in any venue directory. What sets it apart from the others is lesser known venues that you won't find listed anywhere else.
You'll find thousands of coffee shops, restaurants, house concerts, theaters, clubs, halls, churches and book stores - any place you can land a gig! There are also thousands of wonderful venues listed in smaller towns that have been ignored by the mainstream venue directories. For example, there are listings for over 300 cities and towns in New York State alone. And to make your life easier, the Indie Venue Bible has painstakingly researched which genres of music each of these venues feature.
The Indie Venue Bible is sold in separate PDF directories by region. The directories are available for the following regions: U.S. Northeast, U.S. Southeast, U.S. North Central, U.S. South Central, U.S. Northwest, U.S. Southwest and Canada.