Rock/Pop Legend Rod Stewart Talks About His Latest Great American Songbook Album, It Had To Be You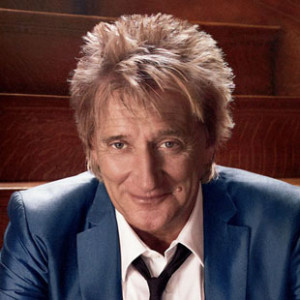 Having sold over 100 million albums and singles by 2002, Rod Stewart thought a nice way to begin aging gracefully would be signing with Clive Davis' J Records and recording an album of standards. Little did he know that It Had To Be You…The Great American Songbook would give rise to a whole new career as successful as the one he had enjoyed for 35 years as a rocker. The guy who once asked "Da Ya Think I'm Sexy?" became a Grammy award-winning standards singer, selling over 17 million units of his Great American Songbook recordings worldwide. Now, after taking a five-year hiatus from the series, Stewart is back with Fly Me To The Moon…The Great American Songbook, Volume V, a 12-track set that the singer calls "the most danceable Songbook yet!"
Considering that Stewart originally didn't believe that the series would be successful and says, "I would have really been pleased even if I sold 100,000," the sales and chart stats for the Songbook series have been nothing short of phenomenal. All four of the previous collections have been Billboard album chart toppers. Thanks For The Memory…Volume IV (2005) entered the Billboard 200 album chart at #2. Stardust…Volume III (2004) was Stewart's first ever #1 debut on the Billboard 200 and earned the singer his first Grammy for Best Traditional Pop Vocal Album.
At the time, Billboard noted that Stardust also placed the Rock and Roll Hall of Famer and Grammy Living Legend in the rare company of veteran artists with more than two decades between #1 albums. The first of the Songbook series, It Had To Be You (2002) entered the Billboard 200 at #4 and As Time Goes By…Volume II (2003) debuted at #2. The first two albums in the series were Grammy-nominated in the same category. His success with the series spilled over to the two albums he did between Volumes IV and V. Still the Same…Great Rock Classics of our Time (2006) entered the Billboard 200 at #1 and Soulbook (2009), a collection of classic '60s/'70s R&B favorites, debuted at #4.
On Fly Me To The Moon, Stewart infuses his iconic rasp into 12 standards, including songs originally popularized by singers like Bobby Darin ("Beyond The Sea"), Frank Sinatra ("I've Got You Under My Skin") and Dinah Washington ("What A Difference A Day Makes") and others just as renowned by their composers Cole Porter ("I Get A Kick Out Of You"), Henry Mancini ("Moon River") and Johnny Mercer ("That Old Black Magic.")
Clive Davis (Chief Creative Officer of Sony Music) who once again is one of the hands-on producers of the current album (Richard Perry is the other), agrees with the singer's assessment: "Volume 5 is so fresh and Rod has never sounded better, delivering one great classic after another. This album introduces a brand new element to the Songbook phenomenon: you can't stop dancing to it. Dinner parties all over the world will never be the same."
Asked how it feels to be on album five of the series, Stewart deadpans, "Yeah, yeah, I told you there was another song in the old violin." On a more serious note, he adds, "A couple of years ago, I had the good fortune to befriend an American G.I. who had served in World War II and had been actively involved in the D-Day landings. He said in a broad, Brooklyn accent, and here I quote, 'Rawwwd, when are you gonna be doin' some of them old songs again 'cause you make them sound brand new.' That was all the inspiration I needed. Thank you sir and God bless you. Here's Number 5."
"People ask me all the time what accounts for the popularity of the Songbook series," he continues, "and I think it's the quality of the songs and arrangements. All the songs on Volume 5 are lyrically very strong with beautiful melodies. They're well created songs, all from the same era, so I love them all. When the third album came out, a DJ in England said, 'The great thing about this is you can take your girlfriend home,' and you know because he's still a single man, "and put your album on and it's romantic.'"
Stewart recently wrapped up a 33-date European summer tour which enjoyed the biggest concert gross to date this year abroad—including four sold-out dates at London's O2 Arena, one of Europe's biggest venues. At the end of September, he announced that he will play eight performances at the Colosseum at Caesars Palace in Las Vegas November—where Celine Dion, Elton John, Cher and Bette Midler have all held court in recent years. For the first time ever, the singer will play all of his greatest hits spanning his five decade career, in a close-up, intimate setting.
"The European show was amazing," he says, "the best tour I've ever done. Without spending fortunes, we had a real spectacle on the stage. You know, a lot of high energy, a lot of color. It was just without a doubt the best tour so far, not just onstage but the vibe behind the stage too, with all the band. It's hard to describe it unless you've seen it but it's real high energy. But there was no American Songbook in it, that's a whole different tour. If I do the American Songbook, I'll go out with a different band and orchestra and play small theatres. Which is what I want to do, that's a dream of mine to do someday."
Jonathan Widran is a free-lance music/entertainment journalist who contributes regularly to Music Connection, Jazziz and All Music Guide. He can be reached at Few522@aol.com. He is also on Google+

Comments