Emerging R&B/Pop Singer/Writer Shelea Discusses
Her Debut Album, Love Fell On Me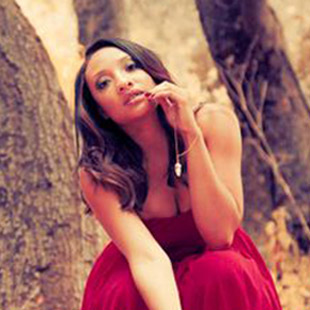 Putting the finishing touches on and gearing up for the early 2013 release of Love Fell On Me, her independent debut album on Breath of Life Records (distributed by RED, a Sony Music Company), emerging R&B/pop singer Shelea speaks excitedly about one of her newest fans—Bobbi Kristina Brown. The daughter of the late Whitney Houston recently checked out the popular YouTube video of Shelea playing and singing a 10-minute medley of her mother's greatest hits, in tribute to Houston's legacy. "Bobbi Kristina thanked me for honoring Whitney, one of my true idols, that way, and said when she listened to me sing, she could feel her spirit. This was the reason I was inspired to do it after she passed away, and it was wonderful to hear her say she thought Whitney would be proud of me."
Posted last February (2012), days after Houston's passing, the original clip has received over 400,000 hits, and re-postings on various sites have increased that total to close to a million. While the video has continued to make the rounds—and Shelea recently performed a similar medley as part of Grammy-winning producer Narada Michael Walden's appearance at the Grammy Museum in Los Angeles–the singer teased her first full-length collection with the release of the digital single "Seeing You" (an orchestra-enhanced ballad) in October and a two track holiday EP featuring the upbeat "Don't Want To Wait Til' Christmas" and a cover of "Christmastime Is Here."
Shelea (whose last name is Frazier) wrote or co-wrote every track on Love Fell On Me, which was co-produced by her longtime collaborator Tony Shepperd, owner of Breath of Life whose mixing and engineering credits include Houston, Quincy Jones, Take 6 and Lionel Richie. The album's title track is a new version of the intimate, jazz-influenced tune that was the lead song on the soundtrack to the 2011 film Jumping the Broom; it features Stevie Wonder on harmonica. The original recording of the song was so popular among the movie's fans that when The View co-host Sherri Shepherd was looking for a wedding song, her Twitter followers overwhelmingly suggested Shelea. The singer would go on to sing another original, "I'm Sure It's You," at Shepperd's wedding.
"Because I've been influenced by so many different styles of music, from classical, gospel and R&B to jazz greats like Ella Fitzgerald and Duke Ellington, figuring out who I am as an artist, genre-wise, has been a unique challenge," says Shelea, a native of Redwood City, California who grew up in Bakersfield. "I originally had two cool big band tunes ready to go, but ultimately the R&B/pop direction we chose for the project led us not to use them. Conceptually, I decided to approach it as a big long journey through love, both lost and found. I wanted to tell a story, and the genres weren't as important because my vocals are the thread that ties everything together.
"I realize that discovering my niche as an artist in this industry, especially when there are so many genres I could choose from, means I probably have to cut off part of myself musically," she adds. "I have a jazz side, love my pop side and write country music as well. But while I enjoy doing all those things, I don't want to be a jack of all trades and a master of none. For the most part, the material on Love Fell On Me is closest to who I am. It's the contemporary equivalent of the R&B/pop vibe that artists like Whitney, Anita Baker and Natalie Cole did so well back in the day. The songs reflect the fact that I'm in the process of many transitions both personally and professionally. I think they show my vulnerable side as well as my inner spiritual strength. Whether I'm writing and singing from direct experience or sharing something that someone close to me has experienced, I always hope to speak directly to what people are going through. 'Seeing You' is a great example – it can touch someone whether they've been through a recent divorce, separation or breakup, or even if a loved one is far away. The songs I love are ones that work on many different levels."
Although Shelea is still up-and-coming as an artist and her name is new on the radar of most pop fans, she brings an extensive behind the scenes resume to the mix. A graduate of Oakwood University in Huntsville, Alabama, she began her career working as an in-house songwriter and vocalist for Jimmy Jam a&Terry Lewis' Flyte Tyme production company—a stint which led to high profile soundtrack work on films like Hotel Rwanda, Akeelah and the Bee and Be Cool. This in turn prepared her for the opportunity to write and produce two songs on Chante Moore's 2008 album Love The Woman, including the single "It Ain't Supposed To Be This Way"; and to sing lead on Take 6's version of Gershwin's "Someone To Watch Over Me" on their Grammy-nominated 2008 release The Standard.
Stevie Wonder became a fan and when he was asked to sing for President & Michelle Obama at the Library of Congress last May—in a ceremony honoring composers Burt Bacharach and the late Hal David with the Gershwin Prize—he chose to showcase Shelea, who performed "Anyone Who Had a Heart" featuring Arturo Sandoval on trumpet. Shelea also performed in Washington DC at the Kennedy Center for the UN International AIDS Conference, sharing the stage with Annie Lennox, Herbie Hancock, Joan Osborne, Patti Austin and the South African Children's Choir.
In addition to launching her career as a solo artist, Shelea plans to continue her eclectic career collaborating with other singers and producers, working on film projects, writing for other artists and placing songs with artists in other genres. "People ask me all the time what it takes to become a successful songwriter and I always defer to what Terry Lewis told me: read as much as you can," she says. "He told me start with newspapers and novels. Take in the human experience and really immerse yourself in everything you can. I agree with him that being well read keeps you really sharp and helps you frame lyrics in ways that have never been expressed before, that are simple yet deeply touch the human spirit. On the melody side, it's the same idea. Listen to all genres of music. Some weeks I'll listen to nothing but country, other weeks just classical. This strengthens my sense of melody even when I'm writing for a pop album. Being open-minded helps songwriters and artists bring something outside the box to their own genre."
Jonathan Widran is a free-lance music/entertainment journalist who contributes regularly to Music Connection, Jazziz and All Music Guide. He can be reached at Few522@aol.com. He is also on Google+

Comments