R&B/Urban Singer/Writer Sterling Simms Talks About His Upcoming Album On RCA Records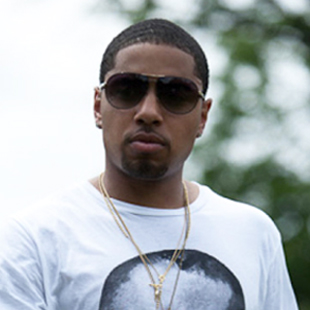 When Adonis Sutherlin, Sterling Simms' A&R rep at RCA Records, started listening to the tracks that the emerging R&B artist was putting together for his upcoming label debut, he found the perfect phrase to describe the overall vibe Simms is aiming for: "dark sunshine." Simms, who signed with the label after a stint with Def Jam that included his debut album Yours, Mine & The Truth, feels that the term "describes where the music takes you, from the dark spots to the bright spots, the peaks and valleys of a relationship." Set for an early 2013 rollout, the cleverly titled Eleven Missed Calls will include the reggae-flavored lead single "Tell Her Again," featuring hip-hop artist (and fellow Philadelphia native) Meek Mill, which has charted on Billboard's Hot R&B/Hip-Hop Songs Chart.
Though the 27-year-old Simms is a new artist to many pop fans, he brings a diverse history as a recording artist and songwriter to the table. The singer, who moved to Atlanta as a teenager, formed the songwriting company Knightwritahz and has penned tunes in recent years for numerous R&B & pop singers, including Mario, Tyrese and Nicole Scherzinger. He also appeared on Jay-Z's comeback album Kingdom Come. Signed originally to the independent One Recordings, his career as an artist picked up momentum when L.A. Reid of Island Def Jam heard his demo and signed him to the label. Yours, Mine & The Truth included the hit R&B single "Jump Off" (featuring Sean Paul), and Simms released a follow-up tune "Nasty Girl."
In addition to releasing two popular mixtapes these past two years—July's Finest (2011) and, more recently, Mary & Molly—Simms was nominated for a "Best R&B Song" Grammy Award last year for "Far Away," his collaboration with Marsha Ambrosius. The singer recently wrapped the 15 city "Closer To My Dreams Tour" with Tyga, Kirko Bangz, Iggy Azalea and Ca$h Out.
"My first album had a bunch of dope tracks but I don't think it had any real cohesiveness that defined me as an artist," says Simms, whose specialty is a blend of the wordplay of a hip-hop artist with an inviting soulful delivery. "Def Jam was a great opportunity for me at the time, but over the few years I was signed the direction for my project kind of got lost. With RCA, I have more control of the process and it's a chance to finally get myself out there the way I want to, with my own sound. They're really trusting me from a creative standpoint, standing behind me 100 percent so that Eleven Missed Calls is all me. After I signed with RCA, I put out the second mixtape and that was a way for everyone to see the kinds of records I wanted to make.
"The album will be a lot more diverse because I don't like to pigeonhole myself," he adds. "I'm a fan of so many kinds of music that I didn't want to just do a traditional R&B album. So while 'Tell Her Again' has a reggae vibe, I also love hip-hop, rock and soul, and my collaborators and I have incorporated elements of all of those into the mix. The title Eleven Missed Calls is about the back and forth that happens in a modern relationship. My lady may call me and I'm not in the mood or too busy to talk, and sometimes it's the other way around—but then we hook up and everything's fine. There are eleven tracks, each representing one of those missed calls."
Simms brings in a unique array of songwriter/producer friends to ensure eclectic, high impact results on Eleven Missed Calls—including Oak & Pop, producers and co-writers of "Tell Her Again," who have produced everyone from Nicki Minaj, Big Sean and Trey Songz to RCA labelmate Elle Varner. "Oak Felder and I have known each other for over a decade and we're best friends," says Simms. Also in the mix are DJ Camper (Backstreet Boys, Corrine Bailey Rae, John Legend, Elle Varner), The Fisticuffs (who brought in "I Know Love," a tune Simms took an immediate liking to) and The Stereotypes (Ne-Yo, Usher, Justin Bieber, Natasha Bedingfield), with whom the singer has a long-term production deal and who signed a "furnishing deal" with RCA to do tracks with Simms for the album. Simms' friendship with Ray Romulus of the three- man Stereotypes production team goes back about seven years, and Romulus worked in A&R at Def Jam when Simms was signed there. When Romulus left to start producing with fellow Stereotypes Jonathan Yip and Jeremy Reeves, it was only natural that their rapport would extend to writing and producing together.
"Working with all these great songwriters and producers has helped me develop into a much stronger artist, passionate about my craft," says Simms. "If they've heard my songs before, they're going to like the fact that I've become more diverse with my music and not afraid to take chances. It's also exciting to share what I do with new listeners. What they'll hear on Eleven Missed Calls is an artist who keeps it very honest, and yes, that sometimes includes a bit of a foul mouth when I feel like expressing myself more emphatically. I think there's a huge difference between saying 'I love you' and 'I f***ing love you.' Every time I have a chance to write and record with someone new, it's a learning experience that pushes me forward. It's amazing to be on a label like RCA that really believes in the music. I think the key to being successful in this business is staying humble and honest and building on your strengths and also your weaknesses to become stronger in every way. It also helps to live by my credo: 'Don' turn down nuthin' but ya colla.'"
Jonathan Widran is a free-lance music/entertainment journalist who contributes regularly to Music Connection, Jazziz and All Music Guide. He can be reached at Few522@aol.com. He is also on Google+

Comments