R&B Singer/Writer T-Pain Debuts With Two Smash Hits: "I'm Sprung" and "I'm N Luv (Wit A Stripper)"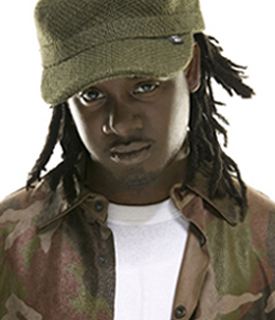 Just a year ago, hot singer/writer/producer T-Pain was an unsigned solo artist, whose music career consisted of being a member of the regionally-popular rap group, Nappy Headz. However, this Florida-based artist has demonstrated that a lot can happen in a year. Now in 2006, T-Pain has landed a label deal with Konvict Muzik/Jive Records, and he has already released two, smash pop/R&B hits, "I'm Sprung" and the current single, "I'm N Luv (Wit A Stripper)."
In a new interview, T-Pain (who is 20) talked about his breakthrough on the charts, and his transformation from being a rapper to becoming a cutting-edge R&B vocalist, songwriter & producer. In fact, his album title aptly describes his career shift: Rappa Ternt Sanga. This CD contains 18 cuts, the majority which T-Pain wrote, produced and performed. In addition, the album features contributions by hit rapper Mike Jones, who co-wrote "I'm N Luv (Wit A Stripper)" with T-Pain and raps on the cut, and R&B star Akon, who wrote the cut "U Got Me." It was Akon who signed T-Pain to his Konvict Muzik label, and serves as the CD's executive producer.
Born Faheen Najm in Tallahassee, Florida, T-Pain started creating tracks at the age of 10, when he turned his bedroom into a mini-studio, with a keyboard, beat machine and four-track recorder. His name T-Pain is derived from his home city ("T" stands for Tallahassee) and from the struggles he has experienced. He explained, "The pain in my name T-Pain is about the pain and struggle I went through, to get my music out there."
When he was a teenager (in the early 2000s), he joined the five-member rap outfit Nappy Headz, which had regional success (in the Southeast) with their singles "Robbery" and "F.L.A." But after the group broke up, he decided to pursue a solo career as an artist and writer/producer. T-Pain subsequently recorded and released his own CD, which included the song "Time To Make Love," which received local airplay.
However, a key break occurred when he wrote and produced his street record, "F**ked Up," which was a reworked version of Akon's hit, "Locked Up" (which was about his prison life). The song became a street hit, and T-Pain further promoted the single by filming a music video. "I released "F**ked Up" in August 2005," said T-Pain. "It was the first song I sang on. [Soon after] the word started to spread about the record, and Akon heard and liked it."
Akon was so impressed with T-Pain's music, that he signed him to his Konvict Musik label (via Jive Records). Then in fall 2005, T-Pain not only recorded his album Rappa Ternt Sanga, but he found time to write a song with Snoop Dogg called "You Got Nerve," which was recorded by Jive artist (and Gap Band star) Charlie Wilson for his album Charlie, Last Name Wilson.
It was also in the fall that T-Pain released his debut single on Konvict/Jive, "I'm Sprung," which quickly became a Top 10 pop and R&B hit on the Billboard charts. T-Pain wrote this unique love song from his own experience – it was about his relationship with a woman that he has recently married.
"I'm Sprung" also showcases T-Pain's distinctive vocal style and production. On several songs on his new CD, he utilizes a vocal processor (influenced by Roger Troutman of Zapp) to accentuate his vocal sound. "I like adding vocal effects on some of my songs – people recognize [right away] that it's my voice and style. I sometimes look at my songs as long instrumentals, and the vocal effects are part of my sound."
Now with the hit success of "I'm Sprung" and "I'm N Luv (Wit A Stripper)," T-Pain is building a solid career as an artist/writer/producer. Not surprisingly, he has a hectic schedule now, touring steadily while also writing & producing for other artists. He is working in the studio with several R&B and hip-hop artists, and he's also writing songs for Jive pop artists Britney Spears and Nick Lachey for their albums.
Lastly, when asked what advice he would give to young artists, writers and producers who are trying to break into the business, he said, "If you can do it yourself, you don't have to pay for it. The more you can do on your own, the better. Labels want to see that you're hungry and determined. They want to see how much you can do on your own [before they sign you]. It was after I released my own CD and 'F**ked Up,' that the labels started to pay attention."
Comments