Special Interview (2007): R&B Star T-Pain Talks About His Hit Album Epiphany, And His Songwriting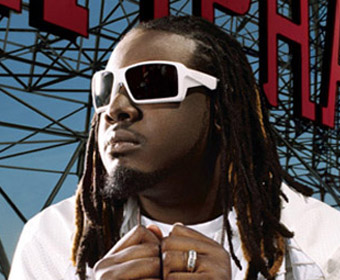 When Faheen Najm was launching his solo career a few years ago, he chose the professional name T-Pain in honor of his hometown, Tallahassee, Florida, and the pain and struggle he went through to get his music out there. Now one of the hottest new stars in hip-hop and R&B, T-Pain's hard work, smooth voice and funky beats recently took the 20-year-old singer to the top of the charts. For the week ending May 26, "Buy U A Drank (Shawty Snappin')," the soulful and infectious first single from T-Pain's new Epiphany album, became his first #1 single on the Billboard Hot 100. Two weeks earlier, the track – which he recorded with rapper Yung Joc – became his second #1 on Billboard's Hot R&B/Hip-Hop chart.
In addition to the impressive popularity of the original version, "Buy U A Drank (Shawty Snappin')" has inspired an unprecedented amount of remixes featuring some of today's genre superstars, including Kanye West, R. Kelly, Stat Quo, Pitbull, Lil Wayne, Chamillionaire, Trey Songz, Diddy and E-40. Another remix features Yung Joc and Akon, the famed hip-hop artist and producer who signed T-Pain to his Konvict Music label (distributed by Jive Records).
Having hit #1 pop in Billboard, "Buy U A Drank (Shawty Snappin')" has surpassed T-Pain's breakthrough successes in 2005-2006 with "I'm Sprung" and "I'm N Luv (Wit A Stripper)," both of which appeared on T-Pain's gold selling debut album Rappa Ternt Sanga. "I'm Sprung" became the artist's first Top 10 single, peaking at #8 pop, while "I'm N Luv (Wit A Stripper)" featuring Mike Jones hit #5.
The racy content of the second single provoked a backlash from mainstream radio and video outlets that prompted the artist to record a toned-down version called "I'm N Luv (Wit A Dancer)." At the time, T-Pain told MTV.com, "[Exotic] dancers love the song. There's finally a song about strippers that ain't degrading. It's not the shake-that-ass song or 'Let's go in the backroom.' It's a song that's appreciating strippers." All told, T-Pain has sold a combined five million ringtones of "Stripper" and "Sprung."
In a recent interview, T-Pain discussed the major differences between his approach to his debut album and his new Epiphany. "There has been a growth inside of me since I made that first album," he says. "To be blunt, I had to learn to stop being lazy in the studio. On the first album I recorded what I thought people wanted to hear, but this time it was about me being an artist. I recorded over 40 songs in six months. "Of course, all of them weren't the hottest, but creatively I felt truly inspired when working on these tracks."
The album's 19 cuts cover a wide variety of themes, beginning with a lively shout out to his home "Tallahassee Love." But its first two singles, "Buy U A Drank" and the new "Bartender," are centered around the club going experience. "Basically, these days lots of people begin their relationships in the clubs," he explains. "Whole conversations begin with some guy buying a young lady a drink. I wanted to make a few songs for those folks. Sometimes, the bartenders are the hottest girls in the club. Guys are always falling in love with those girls, even if it goes no further than that night. 'Bartender' is an anthem for those guys."
Beyond those poppin' first singles, fans will be impressed by the unique variety of musical styles on Epiphany. In addition to the rebel reggae furor of "Shotz" and hypnotic dance tracks like "Church," T-Pain also induces tears with songs like "Suicide." Opening with the sorrowful chords of a Spanish guitar, T-Pain lyrically flashes upon the many ways the young people of today are killing themselves. He explains, "Having sex without condoms, driving drunk, selling drugs, all that is 'Suicide.' We do a lot of stupid stuff that only has one ending."
Having seen firsthand how drugs can destroy the fiber of family, T-Pain consciously chose to detour from that path. Recently, with his wife and daughter, he recently relocated to Atlanta in hopes of a fresh start. In addition, T-Pain built two studios in his sprawling basement. These life changes perfectly reflect the exciting growth he shows in the songwriting, production and performances on the new album. Besides being the creative breakthrough that its title implies, the collection is worlds away from T-Pain's humble beginnings as a teenager as part of the Tallahassee rap group Nappy Headz.
"The title 'Epiphany' comes from me having an epiphany," he says. "It's the best way to describe what this album meant to me. To me, there's a new 'Pain,' a new music, a new everything. So 'Epiphany' means new. The difference between my first album and my new album, is that I'm just more mature. I'm trying to look at things in a different way. It's just a different mind state."
Epiphany was produced by T-Pain, with T-Pain and Akon serving as executive producers. "Just to let everyone know," T-Pain says, "I'm the man of this album and I was the man of my last album. I wrote and produced 100% of this album and I feel good about that. I want people to know that I didn't just go in the studio with a Scott Storch or Timbaland or Pharrell (Williams) or Kanye or Lil' Jon. No disrespect to those producers, but I just didn't need them to do my album. I got my own kinda style and I'm the only one who can produce that style. But I got some people to come on the album: Akon of course, he's feeling my style, he knows what I go through, and Baby Sham, Cee-lo, Shawnna from DTP. Plus my artist J-Lyric and Epic Boy."
Traveling last year on a worldwide tour with label-mate Chris Brown (and later with Bow Wow) also gave T-Pain a different perspective on life and music. "I loved being in London, because overseas it seemed that people were taking different kinds of risks with their records," he says. "I was also impressed when I was in Brixton, and the club was filled with black people and not one fight broke out. Where I come from, folks fighting inside the spot is a regular thing."
In addition to Epiphany, T-Pain is also gearing up to start working with various artists on outside projects including R. Kelly, Kanye West, Usher and even Britney Spears. While T-Pain embraces both the old-school and current R&B, his complete persona on Epiphany shows an artist who is unafraid of taking chances. "For me, soul music is about love, and it's that kind of warmth that I want to bring back to the music. Right now, it's a very exciting time."
Jonathan Widran is a free-lance music/entertainment journalist who contributes regularly to Music Connection, Jazziz and All Music Guide. He can be reached at Few522@aol.com. He is also on Google+

Comments