Temptations Founder Otis Williams Talks About The Group's Storied History and Album, Back To Front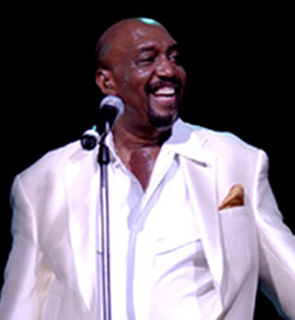 With sales topping 35 million and numerous chart hits, the legendary Temptations are one of the most successful male singing groups in music history. With their meticulous choreography, flashy onstage suits, and distinctive harmonies, this Motown Records group was the definitive male R&B vocal group of the 1960s. The Temptations have earned three Grammy awards, and in 1989, the group was inducted into the Rock & Roll Hall of Fame.
Of the group's original five members, Otis Williams is sadly the only living survivor. But he is actively and proudly carrying on the Temptations' tradition of dancing, singing, recording and touring. The group has just released its 48th album, Back to Front (on New Door Records/UMe). In a new interview, Williams talks about how the group has changed over the years and what keeps them going. "It's been a labor of love," says Williams, who recently celebrated his 61st birthday.
After moving from his native Texarkana, TX to Detroit, Williams started his career in 1958 with a doo-wop group known as Otis Williams and the Siberians. A year later, after replacing two singers and changing the group's name to the El Domingoes, Williams signed with Northern Records, run by Johnnie Mae Matthews, who changed the group's name to the Distants. After a couple of local hits, "Come On" (1959) and "Alright" (1960), "Come On" was picked up by the Warwick label for national distribution and Matthews declared Williams the leader and renamed the group Otis Williams & the Distants.
Later in 1960, Williams' group received an offer from CEO Berry Gordy of Motown Records. They got out of their contract with Matthews and at the same time lost two of their singers and the rights to use the name. Needing two more members for an audition for Gordy, Williams teamed up with the remaining members of another local group, the Primes, who had also disbanded. The new group, called the Elgins, included Otis Williams, Elbridge "Al" Bryant, Melvin Franklin (from the Distants), plus Eddie Kendricks and Paul Williams (from the Primes). Gordy signed the quintet to his Miracle Records label in 1961, but after discovering the name the Elgins was already being used, they quickly became the Temptations.
The Temptations remained intact with this lineup for the next couple of years, but none of their singles released between 1961-63 made an impact on the charts. However, they had an opportunity to work with several producers and songwriters, and really hit it off with Smokey Robinson. "Smokey was a wonderful person and a joy to work with," said Williams. "He was always well-prepared when it was time to work."
In late 1963, Elbridge Bryant was replaced by singer David Ruffin, whose entry into the group heralded "The Classic Five" era, during which time they recorded many of their most familiar hits. In early 1964 Robinson co-wrote "The Way You Do The Things You Do," which became the Tempts' first Top 20 hit. Later that year Ruffin sang lead on another Robinson tune, "My Girl," which became the group's first #1 pop hit and remains their signature song today. Three more Ruffin-led songs became hits in 1965: "It's Growing," "Since I Lost My Baby," and ""My Baby."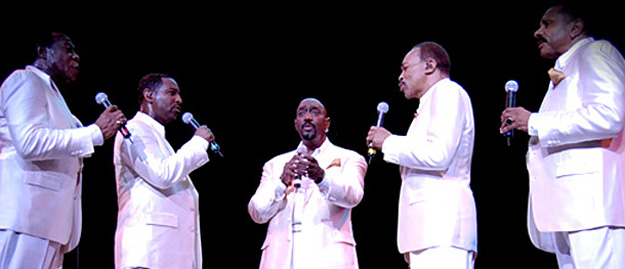 The Temptations' singles were on the radio almost constantly during the '60s. "We had some great songwriters and producers in Smokey Robinson and Berry Gordy. We were all six-footers – tall and tan. We got caught up in the Motown machine. Plus, it was a tumultuous time during the '60s. We were very lucky," Williams says humbly. "We had no creative control, but we didn't know any better."
By 1968, the Tempts had become international stars, appearing on the Ed Sullivan Show, American Bandstand and in supper clubs such as The Copacabana. By this time, Ruffin had become increasingly demanding and difficult to work with. Despite fair warning that he would be fired if his attitude did not improve, he continued to miss rehearsals and engagements, and began using cocaine on a regular basis. Finally, the other four members of the group drew up the necessary documents, firing Ruffin and replacing him with powerful vocalist Dennis Edwards, formerly of the Contours.
"David was a wonderful, fun-loving person," recalled Williams. "We all started out and came up together. It was a very interesting time. That original group of guys – David, Eddie, Paul, Melvin and myself – they were the forebearers. It was a very special unit. None can compare to the original Temptations. But as we began having hit after hit, David's ego got the best of him and it took him to a really bad place, where he thought he could run the show and do it all on his own. I've seen some really God-gifted, talented people, but they'll never make it because they don't know how to take direction or ask for help. We all need other people to make it in any kind of business, and David just lost himself."
1968 was not all bad, however. During that year Berry Gordy put together several collaborations for the Tempts with Diana Ross & the Supremes, including a joint tour, two studio albums, the hit single, "I'm Gonna Make You Love Me," and two NBC television specials. "Diana and I go way back," said Williams. "She grew up just down the street from me. It was a pleasure to work with her. She's always been so professional but also very gracious and sweet."
Along with Dennis Edwards, writer/producer Norman Whitfield took the Tempts' sound in a new direction which became known as "psychedelic soul." Their single "Cloud Nine" became a Top 10 hit and won a Grammy Award for Best R&B Vocal Group Performance. Other hits during 1969-1970 included "I Can't Get Next To You" (a #1 pop hit), "Psychedelic Shack," "Ball of Confusion" and "Runaway Child, Running Wild."
The next year saw more changes in the Tempts' lineup as Eddie Kendricks and Paul Williams left the group, but not before Kendricks recorded the lead vocals for the gorgeous #1 hit ballad, "Just My Imagination (Running Away With Me)."
After adding Damon Harris and Richard Street to the lineup, the Tempts were ready for the new decade. In 1972, Whitfield produced a seven-minute version of "Papa Was A Rollin' Stone," which became a #1 hit and won several Grammy awards (for Best R&B Vocal Performance, Best R&B Song and Best R&B Instrumental).
However, in the late '70s the group experienced a dry spell, going through different members and writers/producers. They left Motown and signed with Atlantic Records for a few years, before eventually returning to Motown. But through Williams' persistence, the Tempts kept on touring and recording. "We were able to adapt to the changing times and styles of music," said Williams of his group's longevity. "Some times more successfully than others."
In 1988, Williams published his autobiography, Temptations (co-written by Patricia Romanowski), and the following year the group was inducted into the Rock and Roll Hall of Fame, honoring Williams, Kendricks, Edwards, Ruffin and posthumously, Paul Williams (who reportedly committed suicide in 1973). "That was a huge honor," Williams said.
Unfortunately, the '90s became a tragic decade for the group. David Ruffin died of a drug overdose in 1991, Eddie Kendricks died of lung cancer in 1992, and Melvin Franklin passed away in 1995 of a brain seizure. New singers came and went during this time. "But we just kept on going," said Williams. The group did celebrate Motown's 40th anniversary in 1998 by performing during halftime at the Super Bowl.
Also in 1998, the Tempts released Phoenix Rising, their first million-selling album in over 20 years, and NBC broadcast a four-hour miniseries, The Temptations, based on Williams' autobiography. "I was very pleased with the movie," said Williams. "We're thinking about taking it to Broadway as a stage play."
The new millennium has seen a resurgence in the Temptations' popularity. They won another Grammy in 2000 with the R&B hit, "Ear-Resistable," and their 2006 DVD Get Ready: Definitive Performances 1965-1972 was a big seller.
Williams says he has seen many changes in the music industry over the years. "The record companies have become very innovative in the way they market their artists," he said. "For example, we were recently in Florida doing appearances on the Home Shopping Network. Also, radio has changed. In the past, radio stations played all kinds of music. Now, every genre of music has its own station. And we get a lot more creative control today. We have more of a voice in deciding what kind of music we want to write and record."
The Temptations' newly-released album, Back To Front, features the group performing some of their favorite songs such as the Barry White classic "Never, Never Gonna Give You Up," the Bee Gees' "How Deep Is Your Love," and the Doobie Brothers' hit "Minute By Minute," among many others. "It was a lot of fun to record some of the songs we have loved over the years and put our own spin on them," said Williams. Other classic songs covered by the group for this album include "Love Ballad," "Respect Yourself," "Hold On! I'm Comin'," "Wake Up Everybody" and "Let It Be Me."
Jayne Moore is a freelance music/entertainment journalist. She has launched a new service, writing bios, articles and press releases. Moore can be contacted at musicgerm@hotmail.com. You can also visit her website: www.musicgerm.com.
Comments