R&B Artist Tyra B Talks About Her Album Past Due, and Hit "Givin' Me A Rush"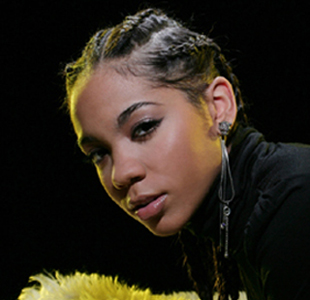 Considering the industry buzz surrounding emerging R&B artist Tyra B and her series of three chart singles over the past few years to back up the hype, it's hard to believe that we're still a few months away from the official release of her debut album, Past Due. Recently named one of the Faces to Watch by Billboard magazine, the artist (whose last name is Bolling) is enjoying success with her latest song, "Givin' Me A Rush," which incorporates elements of Paula Abdul's "Rush Rush" and Michael Jackson's "Human Nature." The track recently cracked the Top 40 on Billboard's R&B chart and peaked at #2 on 106 & Park, BET's hit video countdown show.
While Past Due is being released via an arrangement by her management company, Sphinx Music Entertainment, and Warner Bros. Records, Tyra broke into the R&B world in 2005 without the support of a major label. Performing in a high school talent show in her hometown of Petersburg, Virginia, the versatile singer/songwriter/dancer impressed a Richmond disc jockey so much that he started playing her music and hooked her up with that city's music community. She signed with the indie label GG & L, which had distribution through Universal, and within months her song "Country Boy" became a Top 40 R&B chart hit. GG & L has since evolved into Sphinx Entertainment.
With a big single to promote, Tyra hit the road for 90 concerts, joining Destiny's Child for 30 of those dates. Her follow-up single "Still In Love" met with similar success, reaching #22 on the R&B chart.
Fans wondering why it's taken Tyra three years to record and release her official debut album may be unaware that she recorded an earlier project that she ultimately decided to shelve. "The problem was that we rushed the process," she says, "and once 'Country Boy' was this unexpected hit, my management just kept bringing songs in and I felt like I wasn't able to be involved in making creative decisions. After a while, I didn't like the songs I had recorded at all, and we didn't like our situation with Universal. We finished the album, but at one point realized we weren't feeling that music anymore and so we decided it was better not to release it. Once we got out of the Universal deal, we hooked up with Warner Bros. and took a whole different approach in writing and recording the tracks that became Past Due."
Tyra stuck to her guns, followed her vision for a more personal album, and wound up co-writing a total of ten of the fourteen tracks on Past Due, the majority of which was produced by Bradd Young and Pretty Boy of NYLA Productions. The songs provide her with a platform to showcase her wide-ranging artistry. The infectious "Givin' Me A Rush" focuses on how a person can make you feel good just by their presence. "Me Without You" examines another aspect of love: that of being incomplete without your partner. On this ballad, Tyra sings, "You dot my I's, you cross my T's/Me without you is like L-O without the V-E." Elsewhere, the piano-driven "Good To You" focuses on being a friend to a former lover. Tyra then takes it uptempo with the club-ready "No Regular Chick" and the new single "Get It Poppin." The collection will also include cuts featuring Trey Songz and Ludacris.
"I knew that putting as much of my songwriting as possible into the mix would be the best way to make this a personal statement," she says. "All of these songs come from somewhere inside me. Whether I personally went through the situation or not, they're all from my perspective, my story, and they give fans a close up view of how I think about things."
Tyra, whose combination of singing & dancing has inspired some industry insiders to compare her to Usher, adds, "I'm a die-hard dancer and it was important that we have some uptempo songs on there so that I can give the people a good show," she says. "People that love to dance will love these songs. When I was growing up, singers were cool and dancers were great, but I looked up to artists who had the total package like Michael Jackson and Usher. People like that are the ones that influenced me. They weren't just singers. They had the all-around package and I feel that's really important for an artist these days."
"In order to sell records, you've got to be an artist, a star, a performer," she adds. "You've got to have all those elements. I've always been big on live performances and I make sure whether I'm playing in an arena or a smaller venue, that the presentation reflects strong showmanship and professionalism. Ever since I was a little girl, the stage has been home for me. It's great to put out an A-plus album, but when fans are paying good money to see you up close and personal, the live show should be ten times better."
While growing up in Petersburg, Tyra was grooving to the sounds of Motown her parents filled the house with and, inspired by the attention her older sister – also an aspiring vocalist – was getting, started singing at age nine. In high school, when everybody else was going to the junior prom, she was getting ready to perform at the ceremony for the event. Tyra joined a local singing group but soon realized her future lay in being a solo act. Her parents played a major role in her artistic development, supporting her at every step and revamping their garage to be a practice room for her to work on her dancing and singing.
When young female dancers and singers ask her for advice, she explains that success in the entertainment business is a matter of blending a strong work ethic with being original. "I always tell the kids that the key is, no matter what you do, to stand out from rest of people trying to do it," Tyra says. "So many people want to be star but you have to decide what it is that makes you unique from everyone else. Then you have to work on developing what you have, go out there and give it your best. I really stress becoming an all-around entertainer because live performance is just as important as being great in the studio these days. Anyone can shop a demo, but the industry is looking for stars. Work on your stage presence and perform in any talent shows or showcase competitions you can. These will be the rehearsals for the real thing that will come your way if you're talented and persistent. For me, it's all about finding out what God put me on this earth to do. If you do what's in your heart and it's really what you love to do, good things are bound to follow."
Jonathan Widran is a free-lance music/entertainment journalist who contributes regularly to Music Connection, Jazziz and All Music Guide. He can be reached at Few522@aol.com. He is also on Google+

Comments